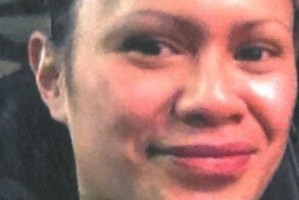 A search of bush and fields where a Northland woman was last seen two weeks ago has been called off after no new clues to her whereabouts were found.
Barbara Moka, 32, disappeared in the early hours of June 9 after a tangi at Te Piiti Marae in Omanaia, South Hokianga.
After leaving with her partner she had a minor crash on a metal road about 200m from the marae. She was not thought to have been injured.
Her partner, 43, told police they returned to the marae on foot and she had disappeared some time after that.
Because she had once before left her Rawene home for a week, to see friends in Auckland, her family was not too concerned at first. However, it is now two weeks since she last used her cellphone or bank account, and her whanau is becoming increasingly worried.
Police hosted a rare press conference at the Kaikohe station on Thursday and seven officers searched a track leading though the bush from the accident scene. They also searched paddocks around the marae.
The search was, however, called off at 8pm that night. Originally it was to have continued yesterday with police numbers bolstered by Far North Search and Rescue volunteers.
A police spokesperson said nothing of interest was found.
Ms Moka's partner was interviewed again on Thursday about events leading up to and following the crash. He continued to be cooperative, she said.
Police were still anxious to hear from anyone who was at the tangi at Omanaia Marae on June 8-9, especially if they were still there after midnight on Saturday. They also want to hear from anyone who knows where she is now or has had contact with her since then.
Call the Kaikohe station on (09) 405 2960 or Crimestoppers, anonymously on 0800 555 111.
For more articles from this region, go to Northern Advocate