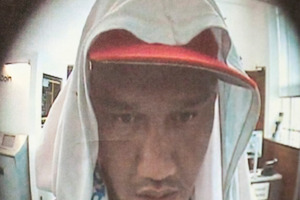 A man wanted over a series of home invasions in Auckland has been arrested, but police say the elderly should still be careful about their security in case others were involved.
William John Murphy, 36, was seen driving a stolen car on State Highway 1 north of the Puhoi toll tunnels at about 8am.
The car crashed a short time after it was spotted. Murphy fled into the bush near Puhoi River, police said.
A dog unit and the police Eagle helicopter found Murphy hiding near Puhoi. He surrendered without resistance.
Murphy has been taken into custody and is expected to appear in Court later today at North Shore.
Murphy had been sought by police over seven attacks on elderly people aged between 69 and 97.
The most recent was carried out on a 74-year-old woman in her Pakuranga council flat on Saturday.
A man, who said he was there to offer security advice, is alleged to have tied her hands together with shoelaces and beat her viciously before fleeing with bank cards, cash and personal items.
Neighbours found the woman half-naked, with her hands tied in front of her and her face covered in blood.
Twenty police staff from Auckland, Counties Manukau and Waitemata had been working fulltime on the investigation.
The other victims, aged between 69 and 97, were based in Remuera, Orewa, Takapuna, Northcote, Herne Bay and Westmere.
Police have not ruled out the possibility of other offenders being involved.
Detective Inspector Karyn Malthus of Auckland City CIB says the investigation still has a long way to go and it's important people keep an open mind about the possibility others were involved in some of the incidents.
"We remain concerned about the safety of our elderly being targeted and are yet to determine the identity of the offender purporting to be a Police officer in various guises.
"We therefore urge communities to be cautious about cold-callers and to remain vigilant about personal security."

- nzherald.co.nz