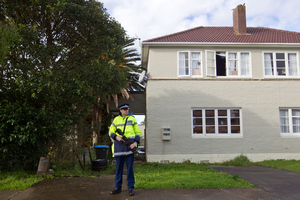 Neighbours heard a loud argument in Orakei yesterday before a man was shot in the head and another man sprinted away from the scene carrying a gun.
The injured man had blood pouring from his temple but managed to run about 20 metres before he collapsed and people rushed to his aid, witnesses said.
Police arrested a 26-year-old man yesterday evening.
The wounded man is expected to make a full recovery.
A man who lives a few houses away from where the man was shot in Kupe St heard a commotion about 1pm and went outside to see what was going on.
"I came out and I saw a man standing there with a gun and there was another guy who had blood pouring from his head," he told the Herald.
The man did not hear a shot.
"I went straight back inside, called the police and told the kids not to go outside ... A man with a gun isn't something you'd expect to see."
Another Kupe St resident, David Lett, said he called police when he saw a man holding a gun chasing another man.
He also did not hear the shooting.
"It looked like a hunting rifle with a telescopic sight, but he wasn't pointing it at anybody," Mr Lett said.
The gunman turned and ran up the road still holding the gun, he added.
Police said the firearm was likely to be small calibre and witnesses described it as looking like a "long rifle".
The neighbour said a woman ran after the injured man, who fled in the opposite direction from the shooter.
He managed about 20m before he collapsed and another neighbour tended his head wound and performed CPR until an ambulance arrived.
The man was able to walk to the vehicle, supported by St John medics.
He was taken to Auckland City Hospital, where he was assessed by medical staff. His injuries were not considered to be serious.
After the shooting, police surrounded the Kupe St house where the suspected gunman lives and searched it but did not find him.
They also used a dog to sweep several properties in the street where the gunman might have been hiding. They arrested a man yesterday evening "without incident" in the Orakei area.
Inspector Earle McIntosh said the incident was "domestic-related".