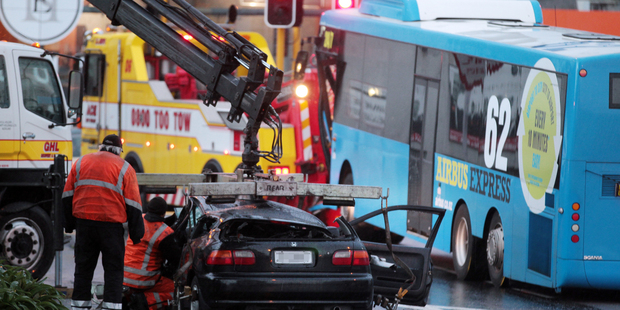 A survivor of a fatal car crash with a bus smashed his way out through a window after seeing smoke rise from the engine of the wreck.
Katene Durie-Doherty, 19, suffered a fractured left ankle and injuries to his right shoulder in the head-on crash in Mt Eden Rd, Auckland, about 4.15am on Saturday.
The police said speed, alcohol and driving conditions might have contributed to the crash between the Honda Civic car and an airport bus.
The driver of the car died in the smash. She lost control on a corner and drifted into the path of the bus.
Mr Durie-Doherty, stepson of radio host and former Cabinet minister John Tamihere, grandson of psychiatry professor Sir Mason Durie and great-nephew of former High Court judge Sir Eddie Durie, was treated in North Shore Hospital.
A teenage male and a woman in her 20s suffered serious injuries.
Yesterday, Auckland City Hospital said they were both stable.
No one in the bus, carrying around 10 passengers, was hurt.
Mr Durie-Doherty's father, Dr Glenn Doherty, a GP, said: "Katene had managed to break a fractured car window after the accident and was able to get himself out of the car when he had seen smoke coming from the engine in the wreckage."