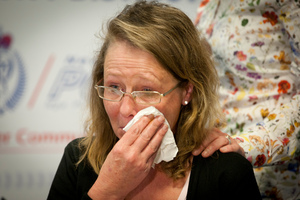 Neighbours of a woman who was viciously attacked in her own home on Saturday have described the horror of seeing her half-naked with her hands tied in front of her and her face covered in blood.
"She was screaming, 'Help me, help me, I've been attacked'," said neighbour Patricia Sawers. "Her face was absolutely covered in blood. It was just dropping down over her face. I couldn't believe what I was seeing. It was absolutely terrifying."
"She told me what he did. She was picked up and thrown. She was all over the place. She fought him. She pleaded with him.
But it didn't do any good."
Ms Sawers heard her neighbour's pleas for help Saturday night after the 74-year-old woman was attacked in her council flat in Pakuranga.
A man, who said he was there to offer security advice, tied her hands together with shoelaces and beat her viciously before fleeing with bank cards, cash and personal items.
Battered, bruised and half naked, the woman then cried out to her neighbours for help. They saw her standing at the front door with her arms out and tied up.
Mrs Sawers took the woman in and, with another neighbour, Allan Clarke, cut her hands free.
Mrs Sawers called police and tried to comfort her neighbour. "I can't stop thinking that as we were enjoying television she was in her unit being beaten - and no one heard a thing. It's so awful."
Mr Clarke said he was shocked by the attack. "She was very shaken, there's no two ways about it. I am disgusted about what happened. It's usually quite safe here."
William John Murphy, 36, is wanted in connection with the incident. It is one of seven across Auckland over the past week involving elderly women.
There have also been two other incidents involving younger people - one in which a man tried to take a person's keys and the other involved a woman's car being stolen after she was pushed to the ground in Penrose.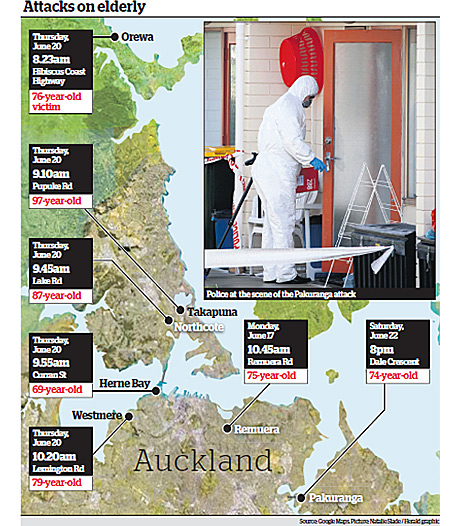 Police say they are seeking Murphy but it's not clear whether all nine offences were committed by the same person. It was important not to rule out other offenders.
Yesterday, the latest victim's daughter, Sylvie van de Geer, made a tearful plea for the offender to "please stop".
"My mother thought she was going to die. There are certain things that happened where she's just thought, 'I'm not going to make it'.
"To see her and the mess this person has made of her is just absolutely disgusting. No one wants to see their mother or their grandmother looking like my mother does today. I just want this person found, and for no one else to have to go through what my mother has gone through.
"Please stop ... I just urge this person to please stop. These are our mums, these are our grandmums - they are people with families and grandchildren. I treasure my mother, as I think we all do.
He can't be allowed to just keep doing this."
Mrs van de Geer said her mother, a strong-minded woman, was coping well after her ordeal.
Detective Inspector Karyn Malthus said Saturday night's victim was the first to be physically assaulted in the eight cases. While she was undressed from the waist down after the attack, there was nothing to indicate she had been sexually assaulted.
"We're concerned the behaviour of whoever is responsible for these confrontations and attacks may escalate.
We are treating all these offences with urgency," she said.
Twenty police staff from Auckland, Counties Manukau and Waitemata were working fulltime on the investigation.
The other victims, aged between 69 and 97, are from Remuera, Orewa, Takapuna, Northcote, Herne Bay and Westmere.
Ms Malthus revealed that that in five of the seven attacks on elderly women, the offender told victims he was a police officer. He was not wearing a police uniform or gear, but told victims he was a plain clothes officer.
On Saturday night he initially told his victim he was there to offer security advice.
Ms Malthus said Murphy was caught on camera shortly after the Westmere incident, using a stolen Eftpos card from that victim at a nearby money machine.
"He is a key person of interest in this investigation and we'd very much like to speak with him about his activities over this past week," she said.
"Anyone who knows where he is or how to contact him should tell us ... we want to prevent any further attacks on people in their homes."
Beware strangers, elders told
Age Concern Counties Manukau chief executive Wendy Bremner said the best thing elderly people could do to protect themselves was to not open their door to strangers.
"They should be confident and ask for credentials of people claiming to be on official business," she said.
Sadly, elders were often lonely and trusting and willing to talk to callers, Ms Bremner said.
Mayor Len Brown was yesterday shocked by the latest attack, having earlier in the day spoken at the Elder Abuse Awareness Day at the Fickling Centre, Mt Roskill.
He urged senior citizens to heed the advice of the police after the home invasions.
A spokesman for the mayor said all 1400 tenants in council housing will be contacted to make sure they understand how to keep themselves safe.
Security patrols are also to be increased in the Council's 66 housing villages for the elderly.

Can you help?
If you know where William Murphy is, or have information on the home invasions, call 111 or Crimestoppers on 0800 555 111.