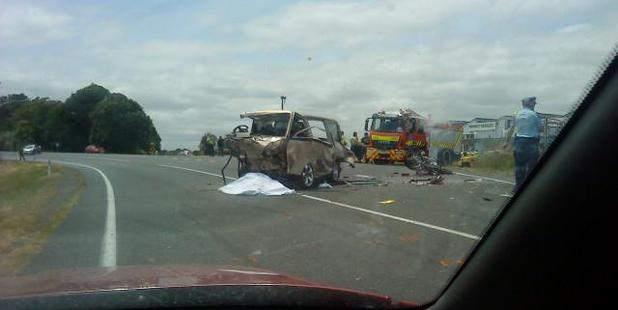 A crippled van driver who has been charged with causing what was one of the country's worst motorcycle tragedies has hired a private investigator to try to clear his name, family say.
Owen Parnell, 24, will appear in court next month charged with careless driving causing death and careless driving causing injury over the December 1 crash.
Two motorcyclists died in the crash and four others were taken to hospital.
Parnell, unemployed, has undergone nine operations and may never walk again, his cousin said.
"He broke about 24 bones in his body - he's so lucky he didn't die.
"He knows it wasn't his fault at all."
The cousin said he had hired a private investigator and a lawyer to fight the charges.
It is understood charges were laid just within the six-month time limit police had to move on the horrific smash.
Waitara wood merchant Kelly Richard Reardon, 40, and Gordon Thomas McKay, 68, of Bell Block, New Plymouth, died after last year's December 1 crash on a rural southern Taranaki road.
One of the dead men was wedged under the crashed van.
The bikers - who had been riding in small groups on the country roads around Mt Taranaki on a sunny summer's day to deliver toys for under-privileged kids - were stoic in the wake of the massive smash and finished the event to honour their fallen colleagues.
Kelly Reardon's sister, Diane Taylor, told the Herald on Sunday that she wanted accountability, but also felt for the driver of the van.
"He's lost his legs but when you look at the bigger picture, it was just a tragic accident. I'm not making excuses for what happened but that could have been any one of us in that position. That piece of road is a black spot. I would feel better knowing something was put in place there to prevent it happening again. When you're at that scene, that van driver had nowhere to go."
Her brother had left a wonderful son, now aged 12, Taylor said.
"He's a great kid, he's going to come through just fine."
Police say the most seriously injured rider to survive was discharged from hospital in April, four months after the accident.
Parnell faces four counts of careless driving causing injury and two counts of careless driving causing death under the Land Transport Act.
He was seriously injured in the crash but only one of his six passengers in the van was injured.
Police said the van was travelling from Wanganui to the Naki Skids at Ferndene Speedway when the van and the oncoming bikes collided by an intersection on State Highway 3 near Normanby.
Parnell was taken to Waikato Hospital after the crash.
He was due to appear in the Hawera District Court on July 2.
The annual Round the Mountain toy run was organised by Bikers Rights of New Zealand. About 200 riders travelled from New Plymouth via Bell Block, Inglewood and Stratford on the December rally.
On the night of the crash, the manager of a community hall where the ride was completed said the bikers raised mugs of tea to their mates, delivered the toys as planned and quietly dispersed to their homes.