Radio host says fatal crash was 'like a war zone' as driver loses control and hits bus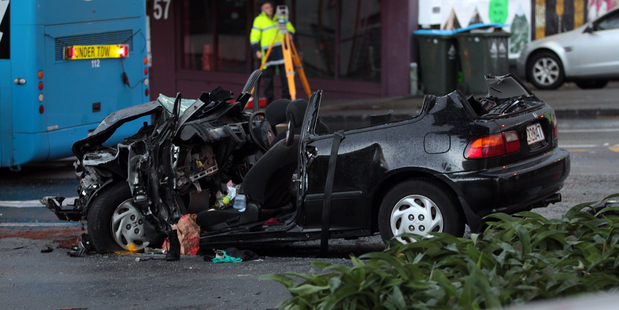 Broadcaster John Tamihere raced to a fatal car crash in central Auckland yesterday after hearing his wife's son was hurt.
Tamihere was told early yesterday morning his stepson Katene Durie-Doherty, 19, was hurt when the Honda Civic he was a passenger in crashed into an Airbus Express in Mt Eden.
Police said speed, alcohol and wintry driving conditions may have contributed to the crash on Mt Eden Rd, Eden Terrace, about 4.15am.
The female driver died on impact. Durie-Doherty is understood to have a broken ankle. Another teenage male and a woman in her 20s were seriously hurt.
Tamihere said it was "like a war zone. I got called out because my wife knew one of the people at the scene and I took her to the scene".
Durie-Doherty, a promising musician, is the son of Tamihere's wife Awerangi. They married in 2007.
The RadioLIVE talkback host and former Labour cabinet minister said it was "one of those typical scenes when this sort of thing happens, like a war zone".
"I was there, watching the boys working, the fire boys and the ambulance. It was a fatality and one of the girls was still struggling. It was a tough scene and those kids were in big trouble.
"I've got a lot of admiration for the way the boys were working. I feel for the family."
Senior Sergeant Junior Abraham said the car driver lost control on a corner and drifted into the path of the bus.
"Alcohol, speed and wet roads don't mix."
Mt Eden Rd resident Theavy Sao was woken by the sound of the crash.
"It was like a bomb, it was very strong," she said.
She saw one man who appeared unable to move his legs, while another man and a woman appeared unconscious. "They were badly hurt, one man was screaming," Sao said.
Firefighters cut them free.
Graham Southall, general manager of Johnston's Coachlines which owns Airbus Express, said the bus driver was in tears after the crash.
"Unfortunately for our bus driver there wasn't anything he could do. I believe he was travelling at a very, very low speed at impact, well below 50km/h.
"What happened was the car travelling in the opposite direction has crossed the centre line and has hit the oncoming bus."
The bus was carrying about 10 passengers, most international travellers going to the airport to catch outgoing flights. None was injured.
Southall said it would be "highly distressing" if speed and alcohol had caused the crash.
The driver would have counselling and take time off work until he recovered from the trauma.
Auckland Hospital said a teenage boy who was a passenger in the car was in a serious condition and a woman in her 20s was stable.
A teenage male was taken to North Shore Hospital in a stable condition.
Meanwhile, police named the Tauranga woman killed when a logging truck and a car collided in the Bay of Plenty on Friday.
Lisa Maree Boston, 42, died in the crash in the lower Kaimai Ranges, southwest of Tauranga.
- APNZ