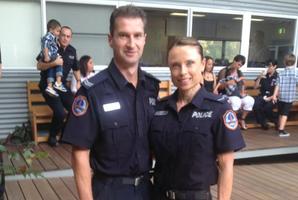 Hundreds of frontline police are applying for jobs in Australia due, in part, to Auckland's rocketing house prices.
Queensland police have received 111 applications from New Zealanders in the past 12 months.
Other Australian states have employed about 100 recruits from New Zealand in the past few years.
The number of police resigning from the Counties Manukau district doubled in the past year.
Police Association president Greg O'Connor said officers were struggling to buy a house in Auckland.
"Figures are still relatively low but they're climbing and it's a reflection on, in particular, Auckland. Officers are struggling to get on the housing ladder in Auckland."
A new constable earns about $55,000, plus superannuation, life insurance and allowances.
Recruits in Queensland are paid about $74,000 if they carry out shift work, plus six weeks' holiday a year.
Counties Manukau District Commander John Tims said Australia was headhunting officers.
"My understanding is they have targeted our ethnic officers, whether it's Pacific, Maori, Asian, for their language skills, their understanding of different cultures. I take it as a bit of a compliment."
Tims said most staff were working in New Zealand for a few years before heading offshore. "They're not leaving immediately after leaving the training force. We're definitely recouping our investment."
Tims said the trend was being partly offset by officers returning.
He said the exodus was not affecting law and order in the district, which had an 11 per cent drop in crime last year.
Queensland police said about half of the 111 applicants from New Zealand had been hired.
In New South Wales, 10 have applied and three were successful.
In Western Australia, 19 police have joined and 10 applicants were turned down.
Tasmania police said they would "fast track" New Zealand applicants with policing experience.
O'Connor said a budget freeze on police was affecting the ability to retain staff.
Figures show 61 officers in Counties Manukau quit in the past year compared to 32 the previous year. Auckland City district lost 35 officers compared to 26 the previous year.

More pay, better work
Rob Engels went from policing P dealers in South Auckland to dealing with domestic violence and alcohol abuse in remote parts of the Northern Territory.
The father-of-three, whose wife Kirsten is also a cop, said the work was not nearly as violent.
"You get a bit more time to keep on top and manage offenders. In Auckland you just seem to have a high volume workload, going from job to job. Making a difference, but not really."
Engels said the spiralling living costs and crime rates in Auckland made the decision to move to Australia in 2006 an easy one.
As a senior constable in Katherine, 320km southeast of Darwin, he makes roughly A$100,000 ($118,500) when allowances and shift pay are factored in. Officers can also apply for a A$22,000 annual housing allowance.