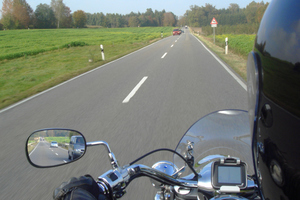 The widow of a man killed when a woman drove out in front of his Harley Davidson in 2010 is seeking answers from the emergency crews who tended to her husband.
In a letter presented at an inquest into the death of Craig Michael Finau in Whakatane this week, his wife Rosita Finau posed a number of questions to Coroner Wallace Bain.
She asked why she had not been contacted about her husband's crash on November 24, 2010, when Awakeri woman Alison Barr pulled out of her driveway on State Highway 30 and into Mr Finau's path.
She also asked why she was told her husband was coherent and talking and on his way to Tauranga Hospital at 5.50pm that day when he had died at 5.10pm.
Mrs Finau also asked Dr Bain why her husband had been left at the scene to wait for a rescue helicopter for close to two hours when Whakatane Hospital was only 10 to 15 minutes away.
Whakatane Constable Michael Chelley gave the inquest an overview of the crash. He said that Mr Finau, 43, was travelling toward Kawerau when Mrs Barr drove out of her driveway and into the path of Mr Finau's motorcycle.
"About 26 metres from impact, Mr Finau has applied his brakes hard. His rear brake has locked up causing his Harley to slide sideways. Mr Finau was thrown from the bike and both he and the bike collided with the driver's side of Mrs Barr's car."
A pathologist found Mr Finau died from high impact injuries.
Mrs Barr pleaded guilty to careless driving causing death. She was sentenced to 220 hours' community work, ordered to pay $8000 reparation and disqualified for 30 months. She later appealed the disqualification period which was reduced to nine months.
Mr Chelley said he would love to be able to tell Mrs Finau why she was not contacted.
"There isn't any direct police policy relating to contacting family members while at a crash scene," Mr Chelley said.
St John Ambulance conducted a review of their involvement with the crash and made two recommendations as a result. One was the education and training of using helicopters and the response time involved and also to develop criteria where ambulance staff can initiate a helicopter response to meet them at Whakatane Hospital.
Dr Bain reserved his finding.
For more articles from this region, go to Rotorua Daily Post