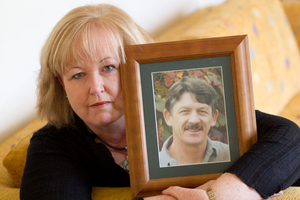 The wife of a man who vanished nine years ago wants ponds at his workplace dredged in the same way as police have done in their hunt for the killer of Scott Guy.
Jim Donnelly went to work at the Glenbrook Mill, near Waiuku, nine years ago yesterday and hasn't been seen since. His disappearance has never been explained, with everything from suicide, murder and his running away and assuming a new identity considered by detectives.
During the initial investigation, the oxidation pond near the steel mill was never emptied and his wife, Tracey Donnelly, has been left wondering if there could be anything more done to find him.
This week, police revealed they had dredged ponds on the Guy farm to put family members' minds at rest, and Mrs Donnelly wondered if the same could be done in her husband's case.
"I've asked police what they knew about it (the dredging) ... I said to them,'I know we've been talking about this being done, now it's been done this way is it possible to do it in (Jim's) case?"'
Mrs Donnelly said it was more about "discounting" it than anything else.
She still has no idea what happened to her husband.
"In my mind, whatever happened was accidental. I don't believe it was a premeditated something or other and don't believe it was suicide - and I certainly don't think he's gone off somewhere ..."
She hoped that one day she would know what happened even if she never knew why.
Their children were 5 and 7 when Mr Donnelly disappeared. "They both went through quite a bit in the early times but these days you get into a routine and there's the three of you and life goes on."
The officer in charge of the file, Detective Senior Sergeant Dave Glossop, told the Weekend Herald that the case "haunts me".
"I see it every day because it's sitting there behind my desk. It's something that's constantly on my mind to see what can or can't be done."
This week, he filed his report updating the Missing Persons Bureau on what has been done in the past 12 months. That has included checking - and discrediting - tips and sending exhibits to be retested by scientists.
"We keep abreast of new DNA technologies ... Late last year, I sent exhibits back to ESR (Environmental Science and Research) for a fresh pair of eyes. That wasn't fruitful at all, unfortunately."
Mr Glossop knew Mrs Donnelly wanted the ponds searched and he planned to look into it. But he is unsure what that would achieve, although he concedes it is a "stone that hasn't been turned over".
"There has always been a question that the main pond has never been dredged. It's just not practical to dredge it. It's acres and acres big. It's raw sewage ... everything people flush down toilets. It's very corrosive so the chance of anything being in there and detectable is quite thin. On top of that it's been in the past a dumping ground for ... carcasses of a bovine variety."
Mr Glossop said there had been no "indication" Mr Donnelly could be in there so police would have to weigh up the likelihood of finding something against the considerable cost to the taxpayer.
The case was puzzling and he hoped to finally close it, for Tracey Donnelly and her children's sake.
"It's like owning a book and never being able to read the final chapter. I feel very much for Tracey. I know how much it haunts me; I can't imagine what it's like for her."

Vanishing act
• Jim Donnelly disappeared on June 21, 2004. He was last seen at his workplace, Glenbrook Mill.
• He had been acting strangely in the days before and Tracey Donnelly is convinced he was hiding something.
• The contents of Mr Donnelly's wallet and his keys were found inside a vat containing hydrochloric acid. The vat was drained after the discovery of Mr Donnelly's hard hat nearby. It contained low-strength acid that could not have decomposed a body.
• Mr Donnelly's bank accounts and cellphone have not been used.