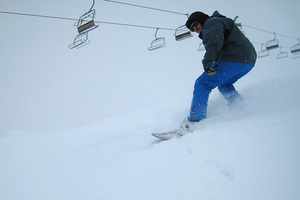 Skiers are rubbing their gloves together after this week's polar blast dumped record early season snow - but many will be struggling to get to their favourites slopes today.
Heavy snow dumps have fallen on most New Zealand skifields this week.
The popular Canterbury skifield Mt Hutt has had 1.5m in the past 48 hours, with a base now deeper than 2m.
Bosses were expecting another 40cm to 60cm overnight - making it a record best start to the ski season.
The new season opens in The Remarkables in Queenstown today, buoyed by the 1.5m which has fallen in recent days.
"People are just going to be yahooing all over the mountain," said ski area manager Ross Lawrence.
Ski bunnies from Australia are flocking to the adventure capital to make the most of it.
"It's the best start for many years," said James Coddington, chief executive of NZ Ski, which runs Mt Hutt, The Remarkables and Coronet Peak.
He said the past few days had been great news for skiers and boarders.
"It's all great news for New Zealand tourism. Australians are booking in their droves," he said.
While travellers have had delays flying into Queenstown, Mr Coddington said they'd happily wait a while to be able to finally get to the snow.
"It's not so bad when they'll get to enjoy the best skiing they'll ever see."
Fields have been gifted 40cm to 1.5m of fluffy new snow in the past two days, including 40cm at Mt Ruapehu - both the Whakapapa and Turoa skifields.
The snow base there is now at 1m more than this time last year, representing the most snow Mt Ruapehu has had in years for the start of a season, which opens next Saturday.
Steve McGill, Whakapapa ski area manager, said there was so much snow on the mountain that many staff were being asked to stay at home yesterday.
"This snow could not have come at a better time - it's awesome," he said.
Skiers yesterday enjoyed a 15cm base at Manganui Ski Area, on Mt Taranaki, and the small Mt Lyford ski basin in the Kaikoura Ranges was given a 1.5m boost ahead of next weekend's season opening.
More than 1300 snow bunnies enjoyed opening day at Mt Hutt last weekend, and it's been snowing ever since.
Teams with heavy machinery have been working around the clock to clear the roads, but it was snowing heavily yesterday, and staggeringly deep 8m drifts are lining the road within 200m of the carpark.
Skiers and snowboarders may be struggling to make it to the skifields, with many flights being cancelled or delayed, especially in and out of South Island airports.
Several flights in and out of places such as Queenstown, Dunedin, Christchurch and Wellington were affected yesterday.
Many alpine roads are also dicey, with many closed completely, or with warnings to drivers to take extra care and to fit chains on their tyres.
Mr Coddington said that while it was doubtful Mt Hutt would be open today, it would be worth the wait.
- APNZ