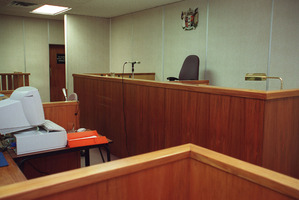 The number of young people appearing before the Youth Court is dropping, newly released figures reveal.
Officials say the decrease is due to a proactive approach to youth offenders, keeping kids in school and holding more family group conferences.
Justice Ministry figures released under the Official Information Act record 3015 Youth Court appearances last year, resulting in 198 convictions. The number of appearances was down from 2011 (3579) and 2010 (3942).
Northland police youth crime Sergeant Dan Cleaver said police were focussing on actively reducing youth offending to prevent more adult offenders later in life.
Court appearances had been dropping due to a rise in "alternative actions" such as family group conferences, which were facilitated through Child, Youth and Family and designed to address what was causing the child to offend.
Keeping children in school and reducing truancy also reduced youth offending, Mr Cleaver said.
Police carried out a truancy blitz this week in Whangarei, where nearly a third of students at some schools are absent at any given time.
"We find that a lot of our youth offenders aren't in school, or are regularly out of school - and that's part of the reason they're offending."
Most Youth Court appearances last year were males aged 14-16 (2430). However, 564 female offenders also appeared.
Principal Youth Court Judge Andrew Becroft said unlike adult offenders, only around 20 per cent of youth offenders arrested by police were taken to court.
"The other 80 per cent are not let off, but they're dealt with by police firmly, promptly, creatively, in the community."
Many young offenders "aged out" of offending with good intervention and did not reoffend, Judge Becroft said.
Hawke's Bay youth aid Sergeant Ross Stewart said police had teamed up with local iwi to help resolve youth offending outside of court.
"They work with not only the child, or the youth, but also his or her extended family.
"They help to address not only the issues the child may be facing, but also what the family may be facing."
District Courts general manager Tony Fisher said when a child or young person appeared in Youth Court and admitted a charge or had a charge against them proven, police could decide not to take the case any further - the same as if the youth had never been charged.
At the most serious end of the scale, the child's case could be moved to the District Court for sentencing.
Other possible outcomes included a 'conditional discharge' - where the child was let off unless they reoffended within a certain time, reparation, alcohol or drug rehabilitation, community work, or the child could be placed under CYF care.
The Youth Court could also order the child's parent or guardian to attend a parenting education programme.
Aside from a District Court sentencing, the outcomes were noted on the child's record of behaviour, but did not count as criminal convictions, Mr Fisher said.
"They do not affect the child or young person's chances for a job or overseas travel."
Last week youth justice advocates JustSpeak warned of considerable variation in youth prosecutions rates between police districts.
JustSpeak spokeswoman Danielle Kelly said it was unfair if a young person in Auckland was denied alternative action because they lived in an area more likely to prosecute.
* Youth Court proven: A young person is never sentenced and convicted in the Youth Court; the charge is either 'proven' or 'not proven'. If proven, the judge can impose any of the Youth Court outcomes.
* Convicted: A charge is proven in the Youth Court and then transferred to the District Court for sentencing.
* Youth Court discharge: The case is discharged in the Youth Court and there is no record on the young person's record.
- APNZ