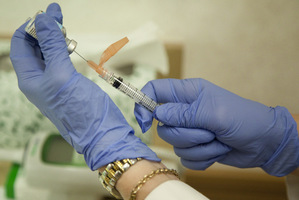 A three-week-old baby hospitalised with whooping cough has sparked a warning from health officials for pregnant women to get a booster vaccination against the disease.
The number of whooping cough cases in Northland has soared past last year's total.
Last year there were 82 reported cases across the region, with 93 cases notified already this year, including the three-week-old baby badly affected last week.
New Zealand has been in the grip of a whooping cough epidemic for more than two years and while the number of cases is dropping in most areas, they are on the rise in Northland, Northland District Health Board medical officer of health Clair Mill said.
There have been two reported deaths from whooping coughs since the epidemic started, but neither were in Northland. However said Dr Mills those deaths illustrated how dangerous whooping cough, or pertussis, as it is also known, is.
Babies were particularly at risk. "We know that only between five and 20 per cent of whooping cough cases are notified, so for every case we know of, there are many more that haven't been reported, so it's important that people get their boosters and their kids vaccinated on time," she said.
"The highest risk is for the newborns. They cough and cough and stop breathing and turn blue, which scares the hell out of their parents, and they can need to be in hospital for days or weeks."
Pregnant women can get a booster jab for free from their birthing unit or GP, and it's recommended for the last third of their pregnancy to provide protection for the unborn child until it is vaccinated. Children are supposed to have whooping cough immunisations at 6 weeks, 3 months and 5 months of age.
For more articles from this region, go to Northern Advocate