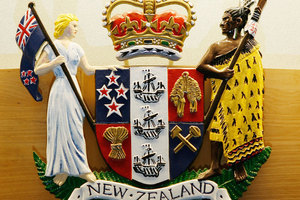 A Masterton man who threatened to cut off his ex-girlfriend's head during a series of abusive text messages has been remanded on bail.
Christopher William Peachey, 19, pleaded guilty to threatening grievous bodily harm, when he appeared in Masterton District Court yesterday.
Prosecuting Sergeant Jodie Lawrence said that between May 10 and 11, Peachey sent a number of text messages to his former partner.
About 50 texts were sent over a period of several hours. A large number of the text messages referred to the victim in a derogatory manner and contained expletives.
Peachey told his ex-girlfriend she was lucky he did not know where she lived and made a comment about hiding her, and their 11-month-old son, in the Rimutakas.
He continued with the abusive texts, saying he would be over that night and would cut her head off.
He referred several times to the victim being dead, said he would have her bleeding on their son before police arrived, and that he would stitch their son into her stomach.
Defence lawyer Frank Minehan said Peachey had since been attending private counselling, which could include relationship counselling.
Judge Tony Walsh said he had concerns about what was going on in Peachey's head.
"When you make threats like that people don't know ... clearly the threats were made to upset [her].
"When he starts threatening to stitch the baby in her stomach, that's really sick and he needs to understand that.
"This is just unacceptable stuff and I think we need a thorough assessment done."
Judge Walsh said the threats were very serious and Peachey was playing "mind games" with the victim.
"There is something sick about what you said to her, especially the threats to harm your own child."
Judge Walsh ordered a temporary protection order against Peachey.
He was remanded to reappear on July 18 for sentencing.
For more articles from this region, go to Wairarapa Times-Age