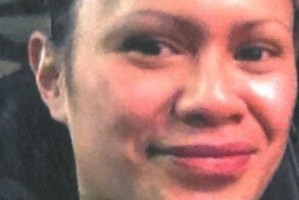 Police and Search and Rescue volunteers have started scouring bush around a small South Hokianga settlement as mystery deepens around the disappearance of a Northland woman.
Barbara Moka, 32, was last seen following a tangi almost two weeks ago.
Driving home with her partner about 1am on June 9 she had a minor accident just 200m down the road from the marae.
Police are now trying to unravel what happened next as they try to find the missing mother of four.
Family members were not overly concerned at first because she had left her Rawene home once before without warning to travel to Auckland for a week. However, they are now growing increasingly alarmed.
Her cellphone and bank account have not been used since the accident; nor has the avid social media user updated her Facebook page.
Police called a press conference at the Kaikohe police station yesterday in the hope of shedding some light on the mystery.
They also want to speak to everyone who was at the tangi at Te Piiti Marae, also known as Omanaia Marae, off State Highway 12 about 30km west of Kaikohe on June 8 or 9.
The head of the investigation, Detective Senior Sergeant Rhys Johnston, said police had not ruled out foul play.
They were keeping a "very open mind".
"Our number one priority is to locate Barbara. Her family have become increasingly worried," he said.
The last person known to have seen Ms Moka was her partner. He had been co-operative and police were to speak to him again yesterday.
Forensic experts have also been examining Ms Moka's car, a 1996 Honda Accord station wagon. It was left at the scene of the crash and towed away the following day.
Police had been told Ms Moka and her partner returned to the marae after the crash.
For more articles from this region, go to Northern Advocate