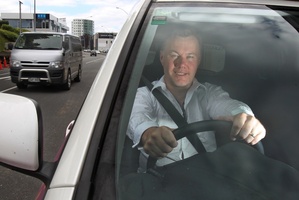 A Tauranga-based Newstalk ZB journalist is in a Paris hospital after collapsing and ending up in a coma on a media trip.
The Bay of Plenty Times has been told Tauranga Newstalk ZB radio journalist Grayson Ottaway had been in a coma this week but had woken up to speak a few words.
Ottaway, who also works for Classic Hits in Tauranga, is an aviation enthusiast and was in Paris to cover the Paris Air Show courtesy of Air New Zealand.
He left Tauranga on June 15 destined for the Paris Airshow and tweeted constantly until June 18 but it remains unclear exactly what has happened since.
His wife Vicky has flown to his bedside and was to arrive in France early this morning.
Ottaway's mother-in-law Sue Hay was looking after the couple's three children and told the Bay of Plenty Times details of his condition and what happened were sketchy.
Vicky Ottaway had called her en route from Los Angeles yesterday but did not know exactly what was awaiting her.
"To be honest we don't know much other than Grayson went to hospital in an ambulance and they gave him something to knock him out and calm him down.
"He uttered some gibberish yesterday but had gone back to sleep," she said.
The language barrier was not making communication easy.
"Basically they only talk French at the hospital so it's been hard getting information.
No one knows the whole story at this stage.
"I am really feeling for Vicky having to fly half way around the world and not knowing what is at the other end."
But her daughter had taken comfort in the fact Ottaway was breathing on his own after breathing tubes were taken out.
"I'm planning on good news soon ... don't let me down," she said.
The Radio Network client services manager Andrew Love said Ottaway had been excited about the trip and could not stop talking about it.
He had worked with Ottaway and known him and his family for more than 20 years.
"Grayson talked non-stop about the trip for more than three weeks. He hadn't really travelled any further than Rarotonga or Australia so it was a big deal to venture that far overseas. He was really hyped-up because it was the airshow ... his big love."
Ottaway was an enthusiastic reporter and diverse radio man who was always on the go, he said.
"He's a bundle of energy and almost hyperactive, a real go-getter. When he covered the Rena story he gave over 100 per cent, 24 hours a day to get things done."
Gobsmacked was how he described the reaction from Ottaway's work colleagues about news of his collapse.
"It's a big shock. You just don't expect anything like this to happen. Everyone just wants to know what is going on."
Air New Zealand fast- tracked Vicky Ottaway's passport as it was out of date and flown her to Paris, he said.
New Zealand Minis try of Foreign Affairs & Trade senior media advisor Stephen Parker said the New Zealand Embassy in Paris could provide on-going support to any hospitalised New Zealander.
Air New Zealand did not return calls or reply to Bay of Plenty Times emails.
For more articles from this region, go to Bay of Plenty Times