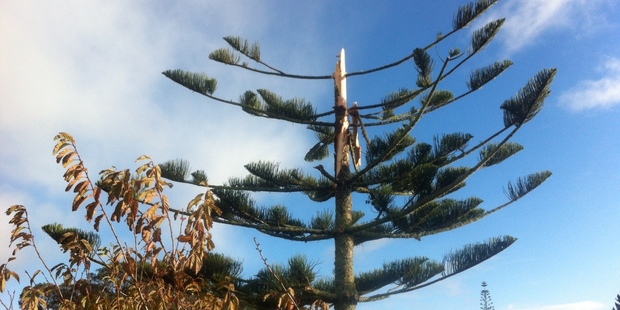 A woman suffered a heart attack after a lightning bolt caused a "sonic boom" that shattered windows and shook houses in a north Auckland suburb during last night's storm.
Christine Bruce is recovering in hospital after collapsing from the shock of the strike just after 10pm.
She and husband George had gone to bed about 10pm when there was a "horrific bang and the house literally shook", Mr Bruce said.
Their home in Stanmore Bay, Whangaparaoa, is next to a Norfolk pine almost split in half by the lightning.
Mr Bruce said the strike caused windows to smash, showering the couple in glass.
Seven windows were smashed, lightbulbs blown from their sockets, frames shaken off the walls and electronics fried.
"We jumped out of bed. [My wife] was screaming, she thought there was literally a bomb.
I dialled 111. The [receiver] asked what we wanted - I said `just send them all'."
Paramedics treated Mrs Bruce at her home before she was taken to hospital, where she will spend the next three days.
"It's destroyed her," Mr Bruce added.
Danielle Howard, who lives opposite where the lightning struck, said there was a loud bang before the sound of windows smashing from the "sonic boom".
St John said there were no other storm-related injuries reported.
Although the stormy weather is no longer battering Auckland, the country's capital continues to experience its worst weather in years.
Massive seas on Wellington's south coast have damaged the sea wall at Island Bay in multiple places.
Wellington City Council's manager of city operations Zac Jordan said the surface of a carpark further along the Esplanade had been ripped up.
The council's first priority was ensuring trees were away from power lines and the public were kept safe.
Andrew Sweet's garage used to house his Honda Accord.
It's now lying smashed on the road outside his home in Island Bay.
Half the garage was ripped away by ferocious winds about 7pm yesterday, with the rest following about 9pm.
"The car alarm didn't even go off," he said.
Wellington Airport reopened this morning at 10am. A spokeswoman said it had now been deemed safe for planes to land and take off but It was up to individual airlines whether or not to fly. Air New Zealand said no jet services would operate before noon.
Winds gusts reached 140km/h in the capital overnight and 200km/h on Mt Kaukau near Khandallah, while sea swells in the Cook Strait rose to at least 10m.
Contributing to numerous comparisons to the 1968 storm which sank the Wahine, an interislander ferry was pulled from its moorings in Wellington Harbour.
Many schools in the region were forced to close for the day as a result of the widespread power outages.
Lines company Wellington Electricity said some 22,000 customers were this morning without power, down from about 35,000 last night.
Wellington region Civil Defence controller Bruce Pepperell said the city's main highways had reopened but the rail network was nearly crippled and there were significant delays on public buses.
Police reiterated the need for extreme care while driving because there was no guarantee all road blockages and power line issues had been attended to or clearly marked.
A Fire Service central communications centre spokeswoman said they had fielded well over 1000 calls since 11am.
The most significant incident this morning was a tree which fell through a house in Taita.
In Christchurch, snow has stopped falling, leaving just a fine layer settled on parts of the city.
Further snow is possible overnight and tomorrow morning.
Heavy rain is still expected over the next 24 hours making driving conditions dangerous.
Surface flooding is an issue in low-lying areas across the city, with the council asking drivers to take care.
"Hill roads are currently extremely dangerous for motorists and should be avoided until later this afternoon," a spokesman said.
- APNZ