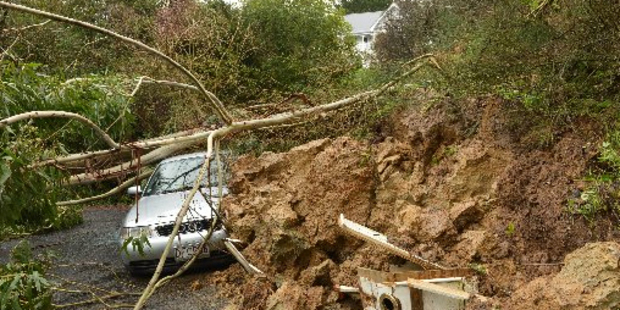 Blanket Bay resident Polly Mustard thought she had prepared for the worst when she parked her car down the road from her house to make sure she could get to work on time in case forecast snow blocked her driveway.
The snow never eventuated, but she still did not make it to work - a giant tree fell on her car.
She was woken about 12.30am yesterday by a cracking sound and when she investigated, discovered the tree had landed on her silver Audi A3, damaging it, and blocking the road.
A landslip on the road above, led to the collapse of the tree. Her car was shunted 1m-2m.
"I heard an almighty crack and heard trees come down and I knew it was on my car."
Another tree had also fallen and left debris all over her driveway, preventing the Mercy Hospital nurse leaving her property.
The asphalt driveway had only been re-laid a month ago.
"I'm gutted. It's a hassle isn't it, just a hassle."
Port Chalmers station officer Anthony O'Neill said officers were only able to gain access to Miss Mustard's driveway by laying down an extended ladder through a slippery forest entrance.
Dunedin City Council roading maintenance engineer Peter Standring said a geotechnical engineer had examined the site and was "reasonably confident" the area was stable.
A track would be cut tomorrow to allow access to the property.
It would be a couple of days before the slip was cleared, he said.