Defence seeks to make amends over chopper triple tragedy, but grieving father is scathing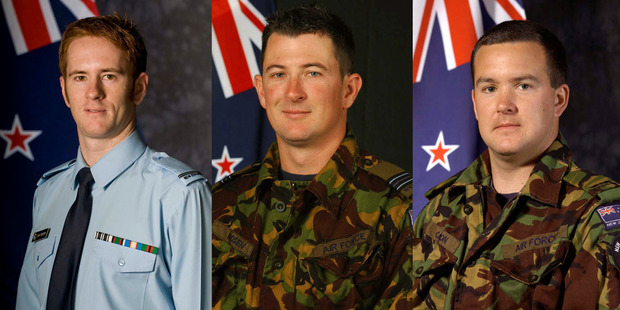 L-R: Daniel Gregory, Hayden Madsen, Benjamin Carson.
The families of three airmen killed in an Anzac Day 2010 helicopter crash have been offered $70,000 for each death.
The money has been offered as "full and final settlement" for the Defence Force's role in the deaths - even though no air force member has been held responsible.
It comes three years and two months after the crash, found to have been caused by a risk-taking ethos which broke confused sets of rules in an environment peppered with safety and training gaps.
Andrew and Pauline Carson, whose son Ben, 25, was killed, have sought legal advice over the offer. Mr Carson said his family had only ever wanted to know who was responsible for safety and training systems falling into such disrepair.
"They killed him and they don't care," he said. "They can just train another one."
He said his family were angry the only investigations into the crash had been carried out by the military.
An external inquiry was bungled because the old Labour Department didn't realise it was meant to do it.
"You'll never get justice from the military," Mr Carson said. "It's like trying to get justice from the Mafia. The guy at the top holds all the cards and nothing can touch him."
The $70,000 has also been offered to the families of Flight Lieutenant Hayden Madsen, 33, and Flying Officer Dan Gregory, 28, the other victims.
Chief of Defence Lieutenant General Rhys Jones wrote to the Carsons: "I wish to assure you that this offer is simply intended to make some amends for the emotional harm that you have suffered ... In no way is it intended to place any financial value on Benjamin's life."
General Jones wrote that any payment made would be raised in "any criminal prosecution against the NZDF" if the court hearing a case was considering making reparation payments.
That appeared to be a nod to a court case in Wellington next Wednesday which offers the only remaining hope for the families that any individual will be held accountable.
The sole survivor of the crash, Sergeant Stevin Creeggan, is seeking permission to criminally prosecute his air force commanders for health and safety breaches.
The legislation under which the case was filed had a six-month time limit. In the hearing next week, Sergeant Creeggan - understood to have life-long injuries - seeks permission to take the prosecution outside that limit.
The three families are divided over the NZDF's response to the crash. The Gregorys and Madsens are believed to be supportive of the Defence Force. Flight Lieutenant Madsen's mother, Julie, said yesterday that the compensation offer was part of attempting to move on.
A spokeswoman for Defence Minister Jonathan Coleman said he had been told the offer was to be made, but he had had no other involvement.
Labour defence spokesman Phil Goff - a former defence minister - said he believed it was a precedent-setting settlement from the military and it was for the families to make a judgment about the offer. "Some of the families are looking for accountability and a sense of lessons learned rather than be focused on compensation."