Industry's governing body threatens illegal tradespeople with trip through the courts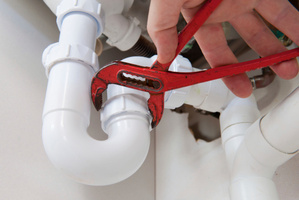 A stern warning is being sent to any unregistered plumbers and gasfitters by the industry's governing body - get a licence or go to court.
And New Zealanders are being told by the Plumbers, Gasfitters and Drainlayers Board to check that their tradesperson is authorised in order to avoid botched work that could lead to thousands of dollars worth of damage or even death.
This month, an Auckland man was ordered to pay almost $2500 after illegally doing sanitary plumbing in a Mt Roskill home.
Nicholas Xiao, of Epsom, who has never been a registered plumber, was hired by a Mt Roskill couple to install a new bathroom in November 2011 but his work was defective. The couple did not know Xiao was not licensed.
On June 5, Xiao was fined $2300 and ordered to pay $113 in solicitor's costs at his sentencing at the Auckland District Court.
The successful prosecution was one of 38 brought against illegal tradespeople in the last financial year.
One of those included a gasfitter whose work was so shoddy, he caused a gas leak and a fire in a Massey home.
Lorenzo Santamaria, a qualified electrician, was told by his boss to go to a job at a home in Massey. While he was there, he was asked to install a kitchen gas hob.
The gasfitting work led to a fire underneath the hob in the kitchen, a gas leak and the hob's flame was up to three times the normal height which could have led to the production of carbon monoxide.
Santamaria pleaded guilty to two charges and he was ordered to pay a total of $10,500 in April last year by the Waitakere District Court.
The charge of carrying out gas fitting when not registered or authorised carries a maximum fine of $50,000 and advertising for gasfitting and plumbing while not registered has a maximum penalty of $10,000.
Plumbers, Gasfitters and Drainlayers Board chief executive Max Pedersen said there were serious safety risks with hiring someone who isn't registered. Every plumber, gasfitter and drainlayer needs to be licensed with the board in order to operate legally in New Zealand.
"The types of problems a person can face if the work is not done correctly ranges from significant property damage even to death," Mr Pedersen said.
He warned any cowboys operating illegally to get out of the industry immediately. "If we become aware of someone who is working illegally, they find themselves in court."
Industry standards
How to know if your tradesperson is qualified
• Ask for their authorisation card which all registered tradespeople will have on them.
• Check the Plumbers, Gasfitters and Drainlayers Board's website which has a full list of all registered tradespeople.
Tell us your story: Email newsdesk@nzherald.co.nz