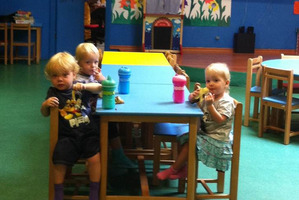 The father of 2-year-old New Zealand triplets who died in a Qatar mall fire just over a year ago has expressed his relief at guilty verdicts in the case, saying he never expected justice for his children.
Seven people, including the owners of the nursery where Lillie, Willsher and Jackson Weekes died, had been on trial over the fire at Doha's Villaggio mall, which killed 19 people, including 13 children, on May 28 last year.
Sheikh Ali Bin Jassim Al Thani, who is Qatar's Ambassador to Belgium and a co-owner of Gympanzee; Iman Al-Kuwari, daughter of Qatar's culture minister and a co-owner and manager of Gympanzee; Tzoulios Tzouliou, Villaggio's manager; and Abdul Aziz Mohammed Al-Rabban, Villaggio's chairman, were given the maximum sentence of six years in jail for involuntary manslaughter, Doha News reported.
Mansour Nasir Fazzaa al-Shahwani of Qatar's Ministry of Business and Trade was sentenced to five years' jail on the same charge, according to the website, which has been following the case closely.
Cleared of any wrongdoing were Villaggio Mall assistant manager Rima Itani and Villaggio's head of security Ahmad Muhammad Abdul Rahman.
Lillie, Willsher, Jackson and the other children were being looked after at the Gympanzee nursery above a shop where the fire broke due to an electrical fault.
Their father Martin Weekes said he had been bracing for the worst and was relieved at the outcome of the court case.
The verdicts had been "a long time coming", Mr Weekes said tonight.
He was "relieved and grateful" the justice system had come out in favour of the victims.
"I think it was not a verdict that any of us were contemplating - it's been such a dreadful, dreadful year we were just expecting the worst.
"So we are pleasantly surprised - if you can say you are surprised and happy about the fact that people have been held accountable for the death of your children."
The verdicts had sent a clear message that public safety was important, Mr Weekes said.
"The defendants have got 15 days in which to appeal, so I guess we have to wait and see until the end of that period as to what happens after that," he said.
"But it's the best outcome we could have hoped for - it's more than we could have hoped for."
More than a year after the tragedy, Mr Weekes was still angry about the official process that had dragged on.
The families of the victims had been promised a report into the fire, which they and the court were yet to receive.
"The report was commissioned by the Crown Prince, therefore it is his report. We've been promised that report from countless levels of authority, including the Attorney-General in Qatar, however, the only person that can release it is the Crown Prince," Mr Weekes said earlier.
On the anniversary of the fire, Mr Weekes and his wife Jane released three lanterns from Cheltenham Beach near their Devonport home in memory of their children.
The couple are expecting twins in August.
- APNZ