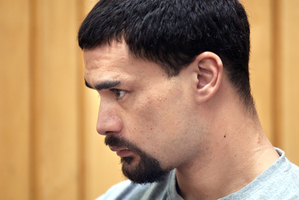 A Rotorua man who kidnapped his girlfriend then dragged her behind a car for almost 2km told police he put her in the car boot "to show her that he loved her".
Sonny Te Aramoana Waiti, 26, appeared in the Rotorua District Court today, handcuffed and guarded by three officers.
Through his lawyer Harry Edward he pleaded guilty to a charge of kidnapping 37-year-old Rotorua mother Ana Eriepa on May 25.
According to the police summary of facts, Waiti and Ms Eriepa were in a relationship and had been living together for about three weeks since Waiti was released from prison.
On the night before the incident they travelled to Tauranga and bought a new car. Waiti had been consuming alcohol and drugs on the trip and had become "paranoid".
Around mid-morning on May 25 Waiti arrived at Ms Eriepa's Clinkard Ave home, drunk and driving erratically. The couple argued and Waiti ordered Ms Eriepa to drive him around Rotorua, then to his family's rural property on State Highway 30 south of the city.
While at that property Waiti picked up Ms Eriepa and put her in the boot, locking her inside. He then drove off, with Ms Eriepa yelling at him from inside the boot.
About 1.30pm the car was seen by several witnesses driving erratically on State Highway 1 between Tokoroa and Putaruru. They then saw the boot open and Ms Eriepa fall out.
She later told police she felt the car swerving and was fearful of the car crashing. She found a cable that allowed her to open the boot and "sought the opportunity to escape".
The car was travelling between 90 and 100km/h when she climbed out. However one of her ankles got caught between the tow ball and the bumper, trapping her. She was dragged over the rough chip seal road for at least 1.66km.
Other motorists tried to alert Waiti but he continued driving at speeds in excess of 100km/h. Eventually another driver pulled up beside him but Waiti gave him the finger and swerved towards him.
That swerving motion flung Ms Eriepa free and she came to rest 50m away in the middle of the road.
Waiti continued driving but was arrested a short time later where police noted his behaviour was confrontational and he appeared to be under the influence of substances.
He initially denied wrongdoing but later told police he had been released from prison three weeks earlier and had been smoking cannabis and methamphetamine continuously since then.
"He thought the victim was 'cheating' on him in their relationship and he put her in the car boot as he wanted to show her that he loved her," the summary stated.
Ms Eriepa was seriously injured and remains in hospital. Her left leg has been amputated below the knee. Other injuries included a dislocated wrist, deep scalp lacerations, a degloving injury to a foot, fractured femur of her left leg, extensive skin loss around a buttock with the glute muscle torn off and multiple abrasions over the majority of her body.
Waiti was remanded in custody for sentencing in the Rotorua District Court on August 23.
For more articles from this region, go to Rotorua Daily Post