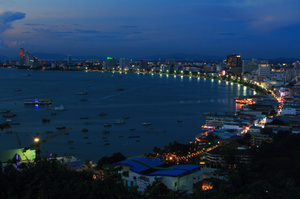 The family of a Dunedin man found dead in a Thai apartment complex are distraught and angry they learnt of his death through media reports rather than police yesterday.
Alan Patrick Mouncey, 38, was found dead with a head wound in the bathroom of his apartment at P Place Apartments in Pattaya, a tourist mecca on the east coast of the Gulf of Thailand on Monday night.
The Dunedin-born man, who held a British passport, was discovered in the third floor apartment by a housekeeper.
Thai news agencies reported that Mr Mouncey's body was sent to the Police Forensic Institute in Bangkok for a post-mortem examination, and Thai police speculated he may have suffered an acute medical problem which caused him to collapse.
It was thought he was able to recover but the head-injury sustained in the fall may have caused his eventual death.
A person had been with him in the room earlier in the evening, but had left.
No other people went into the apartment until his body was discovered by housekeeping.
Mr Mouncey's uncle Keith Harper said he learned of his nephew's death on an early morning radio news report yesterday.
"I heard it on the 5am news on my [radio alarm clock].
"I was still in a daze - I had just woken up and I thought I heard Alan's name on the radio."
Mr Harper said he came to work at the Otago Daily Times where he confirmed the person named in the news report was his nephew.
He then called Mr Mouncey's mother Carol Clarkson, who at the time, had not been notified by New Zealand Police.
Mrs Clarkson was still coming to terms with the news and declined to comment.
"It's hard to come to terms with it," Mr Harper said.
"I'm angry family found out like this. We were distraught.
"We're questioning how it could happen like this.
"Why didn't police contact us? What a strange thing."
A Dunedin Police spokeswoman said police were not able to comment about the case yesterday.
Mr Harper described Mr Mouncey as an academic, quiet with a good sense of humour, humble, and when he spoke everyone listened.
He was also a very keen sportsman and lived a healthy lifestyle, Mr Harper said.
"He was a really healthy guy - gyms, healthy food - he was right into it.
"He was his own guy, he did things his way."
Mr Harper said Mr Mouncey had been travelling on his own on an overseas excursion in London, working for British Rail.
He was on his way back to live in Dunedin and was visiting China and Thailand on his way home.