Waikato and Massey universities ranked among new breed of global institutions.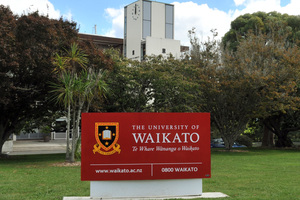 Two New Zealand universities have been named in the top 100 tertiary institutions younger than 50-years-old.
The University of Waikato made it into the top half of Times Higher Education's list ranking at 46th and Massey University came in at 81st. Both were founded in 1964.
The magazine said the rankings provided a fresh perspective on the new breed of global universities.
"Those that have managed to join the world's best in a matter of decades rather than centuries, and which have the potential to become future global leaders."
Editor of the tertiary publication, Phil Baty, said the results showed Britain and America were facing a threat from continental Europe where there was a strong drive to attract students with cheaper fees.
"You know that things are hotting up when France start considering teaching in English. The French have traditionally been extremely hostile to English speaking, but now their universities are recognising that it's important to attract international students."
New Zealand and Australia had geographical and language advantages and they have also been well ahead of the game, Mr Baty said.
But both countries faced a challenge to stay competitive as there were lots of new, exciting and dynamic forces emerging.
He called the list a "forward-looking snapshot" that gave a glimpse of the future.
"It shows those universities that have really risen up the rankings very quickly in just a matter of decades - something which is of real value to the governments who are now trying to switch resources into creating world-class universities ..."
"It shows how much the traditional universities are facing a challenge from new starters."
Mr Baty said New Zealand's place on the list was reasonable. The University of Waikato moved up the list from its spot at 58th last year while Massey University slid four positions. It is the last year both institutions can be included because of the year they were founded.
The University of Waikato Vice-Chancellor, Professor Roy Crawford, called it a huge achievement because New Zealand universities attracted only a fraction of the funding enjoyed by top universities around the world.
"We turn 50 next year, and this is further confirmation that the University of Waikato is making its presence felt on the global stage."
Professor Crawford said their place on the Top 100 Under 50 list would be well received by the international students they attracted and the institutions they engaged and collaborated with around the world.
Spokesman for Massey University James Gardiner was hesitant to comment on their 81st place because "these sorts of things come and go".
Young achievers
1. Pohang University of Science and Technology, Republic of Korea
2. Ecole Polytechnique Federale of Lausanne, Switzerland
3. Korea Advanced Institute of Science and Technology, Republic of Korea
4. Hong Kong University of Science and Technology, Hong Kong
5. University of California, Irvine, US
6. Maastricht University, Netherlands
7. University of York, UK
8. Nanyang Technological University, Singapore
9. Universite Pierre et Marie Curie, France
10. Universite Paris-Sud, France
46. The University of Waikato, New Zealand
81. Massey University, New Zealand
Source: Times Higher Education.