Report on Puhoi-to-Wellsford highway warns of massive amounts of soil to be moved.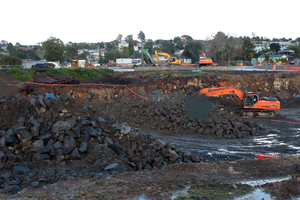 Massive earthworks carving through difficult country for Auckland's next highway will dwarf excavations for the Waterview motorway tunnels.
A report for Auckland Council consideration today says the $760 million first stage of the Puhoi to Wellsford tolled highway - one of the Government's seven "roads of national significance"- will need more than nine million cubic metres of ground moved from its 18km path to Warkworth.
That is almost seven times what is being dug for the Waterview motorway, and the report warns significant and irreversible environmental changes are likely.
Transport Agency highways manager Tommy Parker says the figure is "a kind of worst case, to provide an envelope of effects" for a quick-fire consenting process to start in late August. He hopes to end up moving far less material.
Unlike Waterview, from which spoil has to be trucked away, much of the material would be used as fill within project boundaries.
But Mr Parker acknowledges several large viaducts are likely, including inland from Schedewys Hill, a difficult part of State Highway 1 which his agency is keen to bypass to improve journeys between Auckland and Northland, although Labour and the Greens have questioned traffic demand and believe money would be better spent building a central Auckland rail tunnel.
Even tougher challenges facing the second stage of the proposed road - to Wellsford - have held up efforts to design an acceptable scheme, so he says an earlier $1 billion cost estimate for it no longer applies.
Despite the council report's warning of environmental challenges such as to the ecologically important Puhoi Scenic Reserve, it recommends the project go under fast-track consenting provisions, for the Government's Environmental Protection Authority to hold hearings through a board of inquiry and issue a decision within nine months of notifying applications.
An alternative is for the council to appoint commissioners to hear the applications and make a decision able to be challenged in the Environment Court on more than just points of law, potentially a longer process.
Although the council has been invited to nominate board of inquiry members, the recommendation is drawing mixed reactions ahead of a vote tomorrow by the city's regional development and operations committee. Council transport chairman Mike Lee said the project would have major environmental impacts on the Hauraki Gulf Marine Park so "we don't want a short-cut pressure cooker approach".
"It needs to be a decent process that enables the major environmental issues and the serious concerns of neighbouring land owners to be dealt with properly, not rushed," said Mr Lee, who has dubbed the proposed road "the holiday highway" as an over-engineered Government response to summer traffic jams through Warkworth.
But North Shore councillor George Wood and his Rodney counterpart Penny Webster want "expeditious" consenting and say Waterview shows how to fast-track a project without overlooking community concerns.
Highway plan
Puhoi-Wellsford "road of national significance"
Length: 38km (including 18km first stage to Warkworth)
Cost: $1.76 billion-plus (including $760 million to Warkworth)
Timetable
First stage only - second stage unknown:
Route designation application: late August
Public notification: October or November
Approval decision (if accepted for fast-track consenting): August 2014
Likely construction: 2016-21.