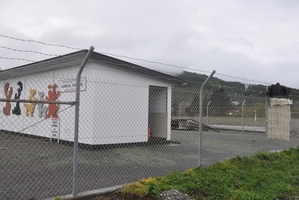 The owner of the second dog busted out of the Greymouth pound in a mysterious overnight raid on Monday is heartbroken that her beloved pet is now missing.
Candice Blackman's german shepherd Ben had been on death row for almost five months awaiting a court hearing, after biting a 10-year-old girl.
It is one of two dogs missing after someone broke into the pound, smashed up the building, and let all the dogs out.
Most were rounded up early yesterday but two are unaccounted for, including a seven-month-old female puppy wearing a red collar that had been impounded because it was unwanted by its owners.
Grey District Council chief executive Paul Pretorius said there was concern for the puppy as it was unable to care for itself and may not survive long on its own with winter taking hold.
Just two weeks ago another dog on death row was stolen in broad daylight and is now believed to have been spirited off the West Coast.
Mr Pretorius said both dogs stolen off death row were considered dangerous and he urged anyone who knew where the animals were to contact the council or the police, before anyone else was hurt.
He said the council was concerned the pound had become a target for "unlawful, mercenary-type action" which was putting animals and the public at risk.
Mr Pretorius said dog owners were currently given visitation rights but the council was seriously considering withdrawing that privilege.
An emotional and angry Ms Blackman said she had not slept since she found out her dog was missing.
"I've been out walking the streets looking for Ben, it is so stressful."
She was angry because the council should have had security cameras and lights set up to deter people from breaking into the pound and taking dogs.
"They (the council) have charged us $1200 since Ben has been on death row, surely that money can be used to improve security there?"
She doubted that her dog had been stolen. It had probably just escaped from the compound during the Monday break-in and wandered off.
"He's a 52kg shepherd, I don't believe he was stolen, I think he's just got out, and because Ben doesn't know Greymouth, he will be lost; hopefully he's not dead."
When dog control officers arrived for work yesterday they found all the dogs that had been locked away in cages inside, roaming free in the compound.
The Greymouth Star understands the culprits climbed over the barbed wire fence and then smashed a hole in the clear plastic roof to gain entry.
Once inside all the cages were opened, the dogs let out, and the door was torn off its hinges.
Greymouth police are investigating.
- The Greymouth Star