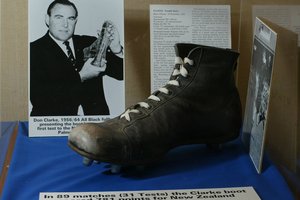 The holy grail of rugby manuals is being sent by New Zealand to the Passchendaele Memorial Museum which is being painstakingly redeveloped in Belgium.
The international New Zealand Rugby Museum in Palmerston North has agreed to lend some priceless artifacts to the Passchendaele Museum which is being reconstructed in time for the World War I centenary.
It was at Passchendaele that celebrated All Blacks captain Dave Gallaher was killed in 1917 and it's his historic rugby coaching book, written in 1906, that's being sent to the museum this month.
Gallaher has a strong connection with Katikati. He arrived there with his family from Ireland aged 4 and was educated there until the family moved to Auckland when he was 16.
The New Zealand section will have a strong rugby flavour because Gallaher gave his life in the bloody conflict.
The book, The Complete Rugby Footballer, was written after the famous 1905-06 tour of Great Britain and France where the All Blacks played 33 games and only lost one match, the disputed international against Wales.
Because the All Blacks were credited with inventing the "modern game of rugby", Gallaher and vice-captain Billy Stead were commissioned by a British publisher to write the book immediately following the tour.
They spent a week writing about the fundamentals of All Blacks rugby and the importance of the ball-in-hand running game. For their creative genius they received 50 pounds each.
The book established the principles of successful All Blacks and international rugby and, over a century later, it still makes total sense.
The great 1971 Lions coach, Carwyn James, called it "the finest book ever written about the game".
Director of the New Zealand Rugby Museum, Stephen Berg, says the book is a sought-after collector's item and a copy in mint condition is worth thousands of dollars.
"We're fortunate to possess an additional copy which we're happy to send to Passchendaele on loan. Dave Gallaher served in the First World War and we're proud to assist another museum that will be the focal point of centennial commemorations next year," Berg said.
"The acknowledgement of us will help our own international profile. It's also appropriate to send it as the Dave Gallaher Trophy is being contested by the All Blacks and France."
Gallaher's grave at Passchendaele is visited regularly by touring All Blacks teams and New Zealand tourists and his book will be accompanied by other items from the museum.
As an incredible aside, Stead was working at his bootmaker's bench in early October 1917 when a stone from a horse's hoof flew through his open door and shattered the glass protecting a photo of the 1905 All Blacks. A splinter lodged on Gallaher's heart.
Later, Stead found that, at the same time, Gallaher was shot on the Western Front.
For more articles from this region, go to Bay of Plenty Times