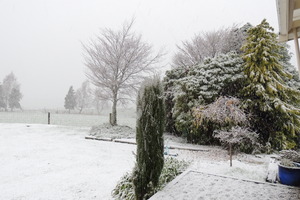 Flights have been cancelled due to wild weather as the first snow of a polar blast set to hit the entire country fell in Southland this afternoon.
Heavy snow and severe gales are anticipated in many regions over the next two days, prompting a special weather advisory to be slapped on the whole country.
Electricity companies have warned of possible power cuts, emergency refuge centres have been set up, and shoppers are being urged to stock up but refrain from panic buying.
Police are warning drivers that insurers won't pay out claims to drivers who ignore road closure notices - and have warned motorists using roads that remain open to be wary of snow and black ice.
The first snow of the polar blast fell in Southland this afternoon, with the MetService warning much more was on its way for the south of the South Island and central North Island.
The forecaster is also warning severe gales will hammer parts of both islands from tomorrow, with Wellington, Auckland and Northland all expected to be blasted with icy wind.
---
Send your weather related stories, photos or video here.
---
The weather has already disrupted flights, with all air traffic in and out of Invercargill cancelled late this morning. Flights into and out of Queenstown have also been affected.
Air NZ said there had been a number of disruptions due to "wild weather" and advised passengers to check its website for details.
Police, transport authorities and the AA have all warned drivers to stay off flooded and icy roads if they can.
The southern district's acting top roading cop, Senior Sergeant Steve Larking, said invisible hazards may follow in the wake of snow.
"While snow is clearly visible, there may be large areas of black ice on the roads later that drivers cannot see - especially in rural and shaded areas."
He said road closures would be made for good reason, so drivers should not try to drive on closed roads. Those who did would lose their insurance cover.
Farmers should be well-prepared for the icy blast, with Federated Farmers saying hill and high country farmers had heeded early warnings to move stock. Lifestyle block owners have also been urged to look out for their animals' welfare.
A MetService severe weather watch this afternoon warned significant snow was expected in Canterbury, Marlborough, Southland and eastern Otago overnight.
Meteorologist Dan Corbett said snow would be "a major issue" in the south and will fall to sea level, or very near to it, from Southland to South Canterbury.
The snow level is expected at around 200m from about Christchurch northwards, and dumps of up to a metre are expected above 300m for inland parts of Canterbury and South Marlborough.
Christchurch Civil Defence staff are on stand-by, having met emergency services and key agencies yesterday to prepare for the expected bad weather.
The Civil Defence Emergency Operations Centre was set up this afternoon and could be activated overnight if heavy snow falls.
Bitterly cold southeasterlies will bring damaging gusts up to 150km/h for the South Island's West Coast, and 130km/h for exposed parts of Marlborough and Nelson.
The North Island should see snow falling to about 600m from late Thursday into early Saturday, as south to southwest winds become very strong.
However, WeatherWatch head analyst Philip Duncan said flurries of snow could be seen at lower altitudes in Auckland on Friday night, while there is a risk of hail and isolated thunder tomorrow.
"While the snow level will likely be 500m-plus, which is higher than the peaks in Auckland, downpours may be big enough to blow snow flurries down onto the tops of the Waitakeres, Hunuas and possibly Bombays," he said.
"However, the forecast for Auckland is very messy - so we will need to update again in about 24 hours time."