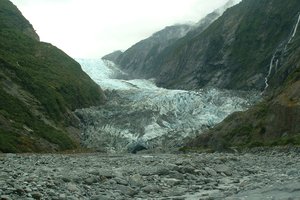 The Westland District Council is being sued for $773,000 by Franz Josef heliport operators who say the council "deceptively" squeezed them out of the helicopter tourism market at the glaciers.
Callery Holdings and Glacier Air, both owned by Gavin Molloy and Lindsay Smith, are taking the council to the High Court because they say the council forced them off the land and took over the site to start their own heliport company.
In 2004 the council decided that Glacier Air must move by 2008 because the helicopters were causing too much air and noise pollution; that was reaffirmed in 2007 in another council decision.
Mr Smith and Mr Molloy then bought new land so they could relocate the heliport, paying for all the work required for the resource consents to do so.
The court papers state that on August 3, 2009, council chief executive at the time, Robin Reeves, granted Hokitika Airport Ltd (HAL) a lease over the existing site to operate a heliport for five years, with an option for a renewal of a further 10 years after that.
Hokitika Airport is a subsidiary of Westland Holdings Ltd, which is fully owned by the council.
This lease was despite several third party reports which said Glacier Air had to move because of the detrimental effects the helicopters were causing to the Franz Josef township. "The lease with HAL was not disclosed to the plaintiffs or their directors by the council and was in direct breach of the council resolutions and the assurances provided to plaintiffs," the report said.
The papers say the plaintiffs are suing the council for the costs of seeking resource consent for the new site and developing it, as well as purchasing land adjacent to the new site. "The 2004, 2007 and 2009 resolutions of Westland District Council, as well as the assurances created a belief and/or expectation of the plaintiffs that the existing heliport would be closed if they could get resource consent for an operational airport.
"In reasonable reliance on the 2004, 2007 and 2009 resolutions, the assurances and the guarantee the plaintiffs incurred the resource consent application expenditure, the development expenditure and the capital losses.
"It was unconscionable for the council to depart from the belief and/or expectation created and the council should be stopped from doing so and should compensate the plaintiff for their losses."
The report also condemns Mayor Maureen Pugh's role in the affair, as she was also a director of Westland Holdings.
"Maureen Pugh had a direct conflict of interest in moving the revocation motion between her duties owed to Westland District Council as Mayor and her duties as a director of Westland Holdings, the sole shareholder of HAL."
Mr Molloy and Mr Smith said they could not open a business on the new site because with the existing company run by HAL it would not be commercially viable.
- The Hokitika Guardian