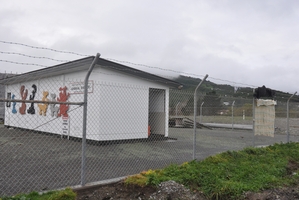 Two weeks after thieves busted a dangerous dog out of death row at the Greymouth pound, the facility was again broken into overnight and all the dogs set free within the compound.
Police and the Grey District Council dog control staff were left scrambling this morning trying to round up the liberated pooches. The Greymouth Star understands at least one was still unaccounted for by lunchtime.
On June 4, a large bull mastiff that ripped the flesh from a Runanga pensioner's arm was stolen in an audacious daylight theft, right under the nose of dog control officer Murray Malloch.
This morning no one from the dog control section was talking about the latest jail-break.
Dog control officer Paula Kerr refused to say anything or even confirm there had been a break-in.
However, the scene told a different story. Blankets had been left draped over the barbed wire fence to gain entry to the compound, the door to the pound was missing altogether and a police officer was on site.
Most dogs were back in custody by late morning.
Council chief executive Paul Pretorius said he was aware something had happened at the pound, but had not caught up with the "full story"
He had very little information about what happened overnight other than there had been a break-in.
"A dog has gone missing, but I am unsure as to which one it is."
Greymouth police were also unable to comment about the incident. A spokesman said a media release would be issued "in due course".
The bull mastiff responsible for the Runanga attack in early May remains free and has not been sighted on the West Coast since it was sprung. It is now believed to be off the Coast.
In that instance the security fence was cut and a man whisked the dog away to a waiting vehicle while someone else distracted Mr Malloch inside the pound.
A witness told police they saw a man with bolt-cutters cut a hole in the fence and sneak off with the dog. Police were given the registration details of the vehicle seen leaving the scene, but they have hit a dead end with their investigations.
- APNZ