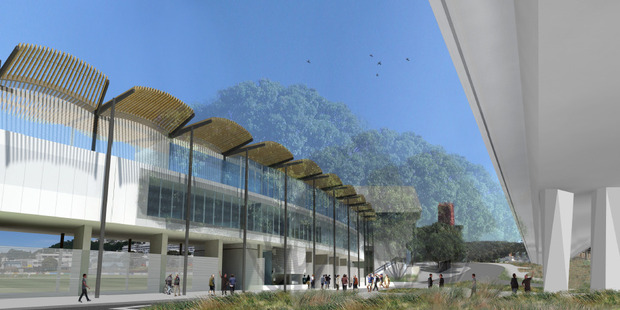 Artist's impressions of a new pavilion for Wellington's Basin Reserve that will block out a proposed flyover near the historic cricket ground have been unveiled.
The Basin Reserve Trust is now pledging its support for resource consent for the road.
The pavilion would also bring new player dressing rooms, facilities and viewing platforms to the ground, the trust said.
The three-level structure would extend from the existing players viewing box (attached to the Vance Stand) along 65 metres to the start of the embankment.
It would block out the impacts of the proposed New Zealand Transport Agency (NZTA) flyover and grade separated interchange around the Basin Reserve.
The trust had negotiated the pavilion's design over three or four years and now that agreement has been reached, it would support NZTA in its resource consent application for the wider roading project later this year.
Trust member and cricket historian Don Neely said the Basin was set aside as a cricket ground in 1857 and had faced numerous challenges every 30 or 40 years.
"In negotiating this arrangement with NZTA, The Basin Reserve Trust had to be totally convinced the overbridge would not impact on the ground's international status, history and the special character of the Basin, which is recognised as one of the world's top 10 cricket grounds," he said.
Wellington city councillor and trust member John Morrison said they had been under "increasing pressure" from the International Cricket Council to upgrade and modernise facilities or risk losing their international status.
"The existing Basin changing rooms and warm-up areas that were designed and built 30 years ago are simply not adequate.
"The new pavilion means we have future-proofed the Basin with state-of-the-art facilities and it also means we can use the Basin for a lot more winter sports which is our intention, including rugby, football or AFL games," Mr Morrison said.
• It will connect to a second tunnel through Mount Victoria
• Aims to unblock traffic congestion for southern and eastern suburb commuters, airport travellers and trucks carrying freight to and from the airport
• The road is part of an $800 million Ngauranga to Airport Corridor Plan upgrade
• It is expected to generate 2000 new jobs in Wellington.
- APNZ