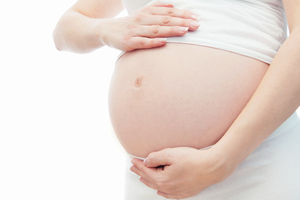 Pregnant women banned from flying are being discriminated against by airlines whose reasons aren't backed up by medical or scientific evidence, a gender expert says.
Many airlines impose a total ban on pregnant women flying past a certain time into their pregnancy, which can vary from 28 to 37 weeks.
The self-declared 'fit to fly' conditions on pregnant women are justified by airlines on the grounds of health and safety, says University of Canterbury gender expert Associate Professor Annick Masselot.
But Professor Masselot, from the university's School of Business and Economics says there's no evidence to support the ban, and suggests it is instead a form of control to "limit the potential inconvenience'' of dealing with a woman going into labour on a plane.
"There should not be any reason to request a medical certificate or refuse women to board a plane based on pregnancy,'' she said.
"There is no reason to impose such conditions on pregnant women when passengers who might suffer from, for example, high blood pressure or heart problems are not requested to provide any evidence of their ability to fly.
Pregnancy is not a form of illness.''
The practice, widespread around the world, could even be illegal, especially in Europe under the Goods and Services Directive, Professor Masselot said.
But there has not been any legal challenge, and people don't usually question the flying conditions because of ``the existence of widespread and deeply ingrained gender stereotypes''.
"These stereotypes are harmful because women who are pregnant have their right to move limited by airlines for no scientific reason,'' said Professor Masselot, whose report on fighting pregnancy and maternity-related discrimination has just been published by the European Commission's justice unit.
Air New Zealand says it doesn't have a firm rule on the issue of pregnant women flying.
"Our general guideline is unrestricted travel for women with a healthy pregnancy to continue flying through until 38 weeks (where the flight is four hours or less) or 36 weeks for flights of longer duration,'' a spokesman said.
"Where the pregnancy is more advanced or there are known complications our medical team assesses the situation on a case by case basis.''
The Human Rights Commission says it has not received any complaints over pregnant women being banned from flying, but suggests a common sense approach is required.
"This is primarily about health and safety. The prime responsibility here is to protect the wellbeing of pregnant women when they travel,'' said Equal Employment Opportunities Commissioner Jackie Blue.
"The Human Rights Act does not refer specifically to the issue of flight bans on pregnant women. However there is provision within the act for a `genuine justification' for any ground of discrimination which may cover airline policies regarding when they accept pregnant women as passengers.''
- APNZ