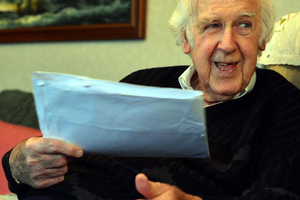 An elderly Dunedin man who was incorrectly billed for home help, and then told by the Southern District Health Board to sort it out with the Auckland-based company himself, will receive an apology, health board chief executive Carole Heatly says.
Len Hesford, 88, said it was "panic stations" on Friday for him after he received a $108.56 invoice for four hours' housework he was entitled to receive free of charge.
Formerly a client of Presbyterian Support Otago, Mr Hesford was transferred to the Australian-owned Royal District Nursing Service New Zealand (RDNSNZ) at the end of April.
When he queried the bill, he was first advised by the Auckland-based company he was a part "cash customer", and had to pay for one of his two weekly hours of housework.
He was told he was eligible for the hour funded by Veterans' Affairs, but the hour of health board-allotted help must be charged.
He then twice approached the health board, and was told both times to take up the matter with the company.
He was advised to call the company on an 09 number. When he pointed out it was a toll call, the health board transferred his call directly to the company.
Finally, he was told by RDNSNZ to "disregard" the invoice, but he feared that did not mean he would not receive another bill next month, and he would like to receive an assurance in writing.
The "upsetting" episode was especially unwelcome as he has been dealing with a serious health concern.

The customer service centre in Auckland seemed "offhand", and it was quite different from dealing with the Dunedin-based Presbyterian Support Otago, Mr Hesford said.
"They're not interested in anybody in Dunedin," Mr Hesford said, referring to RDNSNZ.
Ms Heatly said in a statement yesterday RDNSNZ was reviewing its systems to ensure it was not incorrectly billing other elderly people.
"It would also seem that Mr Hesford did not receive a high standard of service when he contacted Southern DHB about his situation. We will remind staff of the need to provide a high level of customer service and support, which we always endeavour to provide."
The board would apologise to Mr Hesford.
It was also ensuring RDNSNZ's 0800 free-phone number was better publicised. The health board engaged RDNSNZ as part of its move towards a "restorative" model of home-based care.