Convicted killer's lawyer produces paper casting doubt on core DNA evidence.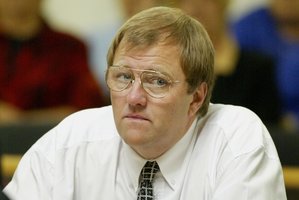 A previously undisclosed police document has been described as a "striking revelation" during Mark Lundy's appeal to the Privy Council in London.
The reliability of the science used to identify DNA matter found on his shirt as brain tissue is a core part of his bid to have his convictions for murdering his wife Christine and daughter Amber, 7, overturned.
In his opening address to the five Law Lords on the Privy Council panel, yesterday, David Hislop, QC, said Lundy's legal team had received a document from the Crown Law Office in New Zealand last week.
The document was written by the officer in charge of the murder case, Detective Sergeant Ross Grantham, asking a senior officer for funding to visit an expert in the United States to identify matter on Lundy's shirt.
Pathologists for the police thought it was brain tissue, but suggested the evidence be reviewed by a neuropathologist, according to the document read out by Mr Hislop.
The New Zealand scientist who looked at the samples said the tissue, found 58 days after the murders in August 2000, was too degenerated to identify as brain tissue.
According to the document - which was not disclosed to defence lawyers at Lundy's original trial - the neuropathologist, Dr Heng Teoh, said Lundy should not be convicted on the forensic evidence he viewed.
Mr Grantham was later given permission to fly to Texas to show the samples to Dr Rodney Miller, who gave damning evidence about two specks of tissue found on one of Lundy's polo shirts.
Mr Hislop told the Privy Council the science used by Dr Miller to identify the tissue as brain tissue was "fundamentally flawed".
He said the police document was at odds with the Crown case that the DNA well preserved and was a "substantial development".
"Detective Sergeant Grantham was very alive to the value of this information to the defence. He chose to not disclose it," said Mr Hislop.
Privy Council member Lord Hope, described the discovery of the document as a "striking revelation".
Lundy, now 54, is serving at least 20 years in prison after being convicted of the axe attack in his Palmerston North family home.
The Privy Council hearing is set down for three days.