Tom Stilwell has neck and back fractures and a broken wrist but is expected to make a full recovery.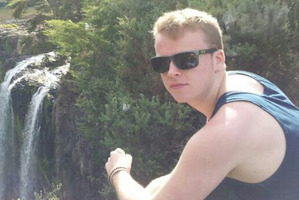 The first words from a young Briton who survived a fall from the 15th floor of an Auckland city apartment block were "what an idiot".
Tom Stilwell was unable to speak when he woke up because of tubes down his throat but he wrote to nurses on a board, his flatmate Dave Thomas told the Herald last night.
The 20-year-old, in New Zealand on a working holiday, was moved from Auckland City Hospital's high dependency unit to a ward yesterday and was expected to make a full recovery. "He's very good, very happy, speaking normal and back to his old jokey self," Mr Thomas said.
"After a nurse explained to him about what had happened, he wrote on his little squiggly board 'What an idiot'."
Mr Stilwell's parents were still deciding whether to fly to New Zealand from the UK, but Mr Thomas said he had emailed them photos of their son in hospital.
He said Mr Stilwell did not remember anything from the incident, but was amused to see it being reported around the world.
The Auckland Transport worker broke bones in his back and neck, and has suspected internal injuries.
Mr Stilwell, who is from Brighton, was on a night out with fellow travellers when he became separated from them and went home to the Volt apartment complex.
He couldn't get into his locked unit, so he woke a neighbour about 2am on Sunday and asked her if he could lower himself down from her top 15th-floor balcony to his own, directly underneath.
Geraldine Bautista, 28, said Mr Stilwell slipped from her grasp and plummeted onto a building about 13 floors below.