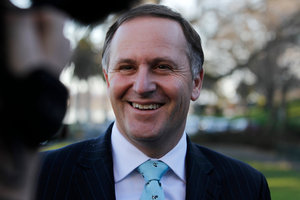 Prime Minister John Key says he trusts the United Kingdom not to spy on him despite revelations it spied on other international politicians, including its own allies, at international conferences in the past.
The Guardian reported yesterday that the UK spy agency GCHQ had intercepted emails and phone calls of international politicians and delegates at a G20 summit in London in 2009, including penetrating smartphones to monitor emails and phone calls, and setting up internet cafes to intercept information.
Mr Key said he "wouldn't have a clue" whether he had been spied on by other countries at international summits such as the 2009 Commonwealth Heads of Government meeting or subsequent meetings. He had not sought any assurances that he was not spied on while visiting another country, and said "I wouldn't need to when it came to the Brits."
He said there would be no point in asking other countries whether they had spied on him anyway, "but I'm confident our friends don't do those kind of things".
Britain was reported to have spied on allies such as Turkey and South Africa and some of the information was sent to Government ministers to prepare them for talks at the summit.
He said if Britain's Prime Minister David Cameron had wanted to know what he was going to raise at meetings "he'd just send me a text and ask me". Asked how he found out the positions of other leaders ahead of a major summit, he said "watch CNN".
However, he said he did take security seriously when he was travelling and in New Zealand.
"I have high levels of encryption on my phone, ... and I don't leave laptops, iPads and phones accessible to others. But there's always a risk people will intercept communications. That doesn't mean necessarily that the jurisdiction we are travelling to is going to do that, but there are others who will always try to break into equipment."
He would not say whether New Zealand's spy agency, the Government Communications Security Bureau, would spy on international leaders visiting New Zealand, saying it was tradition not to comment on the capabilities of the agency.