Paeroa locals frustrated murder of popular shopkeeper no closer to solution a year on.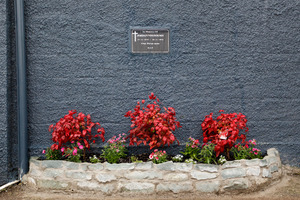 Paeroa locals say they are frustrated that a year after their popular pizza man was shot his killer is still at large.
Jordan Voudouris was found dead lying in a pool of blood by a neighbouring shopkeeper after he was shot following an altercation with a mystery figure behind his Mykonos Pizza and Pasta Restaurant a year ago today.
This morning friends of Mr Voudouris, residents of the small Hauraki town and others from as far away as Auckland will gather for a ceremony to mark his death.
His neighbours have built a small garden of shrubs and flowers not far from where his body was discovered.
Above the garden is a simple headstone that reads: "In memory of Jordan Voudouris, 23-6-1956 18-6-2012 ... Our Pizza Man RIP".
Arkwrights Antiques owner Vivien Leonard-Gerrand, Mr Voudouris' neighbour of eight years, said she was still dealing with the shock of losing her friend.
"He was such a good neighbour and like a guard dog for my shop, he scared away people trying to break into my shop."
Ms Leonard-Gerrand, who was asleep when she got a call that Mr Voudouris had been killed, said she had tried to help police solve the murder mystery, so far without luck.
"We first thought that it must have been a burglary gone wrong, but his brother told me they found him with money in his wallet and in his back pocket so it wasn't a burglary.
"And when they said on [TV show] Police Ten 7 that he had been shot - well, that was as big a shock as any."
Despite an extensive inquiry that involved more than 20 detectives and a reward of $50,000 that expires on July 1, Mr Voudouris' murder remains a mystery and police have not been able to make an arrest.
Positive Paeroa chairman Brian Smith said residents acknowledged the police work, but were struggling as there had been no closure on Mr Voudouris, who was a hugely popular figure with young and old.
"People are still in a bit of disbelief that something could happen in a small town like this and I also think there is a little bit of frustration that no one has been held accountable for it," Mr Smith said.
"With the event it is still something that is in your mind. Even over the weekend I went in there and bought a pizza and you are still reminded of it constantly. It is something that will stay with Paeroa for a very long time."
Western Waikato investigations manager Detective Senior Sergeant Mike Whitehead said an example of a successful prosecution in a longstanding homicide inquiry was the conviction of Mark Pakenham in February for the manslaughter of Sara Niethe from nearby Kerepehi in 2003.
"Often people's loyalties or circumstances change ... someone may not have been in a position to speak to police at the time of Jordan's death [but] may now feel free to do so."