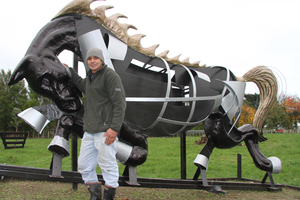 Ohakune has it's carrot, Taihape a gumboot.
Now, Levin has a magnificent equestrian sculpture at its south entrance which may seem somehow familiar.
Local stonemason Richie Cornell rescued the steel sculpture which graced the front of the Awapuni Hotel for decades.
"I used to drink there in my younger days," Richie said. "I noticed it had been shut for a couple of years."
A few months ago he saw workmen at the site.
"I always admired the horse on the front of the building, I wondered what was going to happen to it," he said.
He asked the workers who told him the pub was to be demolished to make way for a supermarket and "Black Beauty" was destined for the knackers yard, or the scrap metal yard at least.
"I offered to buy it," Richie said. "I feel I have a bit of a connection with that horse, I couldn't let it finish up like that."
After discussion with the owners, a price was struck and Richie took up the reins. Weighing well over a tonne, the logistics of getting a fibreglass, steel framed horse home was a lot more complicated than shifting a real one.
"My mate Daryl Morgan offered to use his crane, we had to get special harnesses and things to lift it without causing any damage."
Exposure to the elements and little or no maintenance had taken its toll.
"Bits were pretty fragile," Ritchie said. "We had to handle it with care."
Painstakingly restoring the beast to its former beauty took time, not to mention a huge amount of physical effort.
In the meantime Richie was inundated with offers to rehome Black Beauty.
"Like they say, everything's for sale - at a price," he grins. "Nah, this ones a keeper."
Creating a cradle in his front paddock to keep Beauty on his hooves and with the help of Daryl's crane, the resurrection was completed.
Back in the eye of the public, Black Beauty rides again.
- The Horowhenua Chronicle