Woman tells of being desperate and angry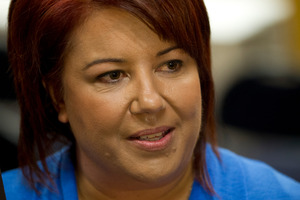 A woman this week accused of blackmailing Child, Youth and Family, became outraged when she learned a convicted killer was getting custody of their child back - while she was in the middle of a so far unsuccessful seven-year battle to regain the right to care for her own children.
CYF went to court to block the woman publishing documents she was sent by mistake in another government department privacy breach, and Social Welfare Minister Paula Bennett accused her of trying to hold the department to ransom.
"Someone can't try and blackmail the department to try to get back their child, when there are obviously reasons for that," Bennett said.
But the Auckland woman, who can't be named because it would identify her children, has hit back, saying it was the third time she had been sent information about someone else during her battles with CYF, and that she never meant to threaten anyone.
She has not released the papers to the Herald on Sunday and does not want the information made public. But in discussions before the court order, we confirmed they related to a convicted killer getting custody of their child back after being released from prison.
"It made me angry. I had a meeting with them on Friday and they told me I would not be considered as an option for my children's care. I said 'well the papers you sent me show that a convicted killer can get their child back, why can't I?'
"I left that meeting and just was so desperate and angry that I told them I wanted my kid or these papers would be released."
The woman said she never intended her comments to be construed as blackmail and CYF has confirmed no police complaint has been laid.
"I think when you reach a point of losing all hope you will try anything to get your children back." She was concerned with how the department handled information.
"The public needs to know that CYF is careless with people's information. They say it is human error but it is carelessness. I have had wrong information sent to me three times now," she said.
Of her own case, she said she consented to her children being homed with wider family members in 2006 as she was getting out of a violent relationship with the children's father.
She had left the man, undergone parenting courses, had no criminal convictions and did not take drugs or drink alcohol.
A parenting programme had recommended the children be returned to their mother in 2008 and CYF had even approved of her as a caregiver to her sister's newborn baby for six months while her sister was ill.
"If they can trust me with a tiny baby, why can't I be trusted with my own children?" she said.
However, a psychologist report went against her and the children were placed with her aunt, who is now facing charges of assault and neglect to them between 2008 and 2012.
CYF head Bernadine Mackenzie would not answer questions on how a convicted killer could win custody of their child. She said the department was sorry for releasing the wrong information and was investigating how it happened.
"It remains important that she return the document as soon as possible. She needs to do the right thing and think about the family whose information she is trying to hold to ransom. We would rather just focus on working with this woman in relation to her own children," she said.

Govt's bully tactics 'sickening'
Bryan Staples (picture), mistakenly emailed details of about 98,000 claims by the Earthquake Commission, was also accused of blackmail.
"The Government is careless with people's information and then they turn it around on the people who get sent the information by threatening to take them to court and accusing them of being criminals. It is not right.
"(EQC) said I sent them an email saying 'if you don't pay me the $700,000 that you owe me I will be going to the media'.
"I was just demanding what was rightfully mine.
"They reported me to police and the police couldn't charge me with anything. EQC have since paid me about $500,000 of that money.
"It's just bullying tactics. Where is the empathy in this country? They take issues personally and think if they personally attack people's integrity it will shut them up.
"It's the culture within the Government to threaten people. It's sickening."