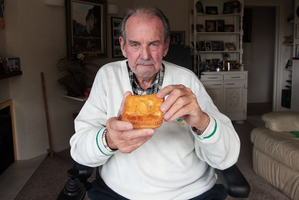 One of Georgie Pie's founding fathers says his contribution to the reheated fast-food favourite has been left in the back of a pie-warmer.
"I set it up and nobody gives me any credit for it," said philanthropist, Rotarian, retired businessman and Howick sports club stalwart Trevor King, 87.
The nostalgic nosh has proved irresistible to New Zealanders, who campaigned for the return of Georgie Pie, set up in 1977 and shut down a generation later.
This month, the pie returned - and with it, a wave of attention for the pie outlet's creators, particularly former Georgie Pie general manager Brian Popham. But not King.
King said he was asked to check out fast foods and develop a concept for supermarket mogul Thomas Ah Chee, who sent him on an overseas scouting trip in the 1970s.
King said fish and chips were popular but the fish supply was too erratic for a big assembly-line operation. However, he noted Kiwis made some of the world's greatest pies.
King figured if they could sell pies for the same price McDonald's hawked its burgers, Ah Chee would have a winner.
King said he spent some time away from the project before Ah Chee summoned him to get involved again. King was the managing director at Georgie Pie for a few years.
Popham told the Herald on Sunday many people were important to Georgie Pie's genesis.
Although Popham was commonly regarded as the firm's real big cheese, he was happy to acknowledge King "had a very valuable role in the manufacturing side" of the old pie.
Popham said King might have gone on a scouting mission to the United States but he credited Ah Chee with the concept of the pie.
Popham stayed with the company until the 1990s, when McDonald's swallowed up the pie firm.
A rumour has it that McDonald's bought Georgie Pie solely for the strategic restaurant location on busy Great South Rd in Auckland. "But it wouldn't have been the sole reason because ultimately we bought 17 of them," said McDonald's spokesman Simon Kenny.
Kenny said Popham was McDonald's go-to guy during the relaunch because of his peerless experience with Georgie Pie but said other people, including King, were involved in the set-up.
Meanwhile, King was reunited with his crusty old friend last week.
"It was good," he said, after trying the pie.
"It was pretty much as the same as we used to produce then."
Only one thing had changed: "If we'd have sold it for $4.50 we would have made a lot of money."