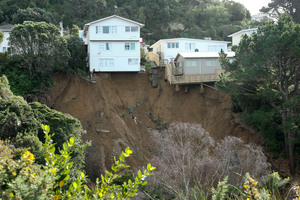 Some of the 35 residents left homeless after a major landslip in Wellington will be allowed to return to their houses this weekend while others remain in limbo about the future of their properties.
Two weeks after the landslip in the suburb of Kingston that forced the evacuation of eight homes, Wellington Council today said that the residents of three properties would be returning.
The occupants of three more homes are allowed to return to collect items but still cannot stay at the properties while further geotechnical studies are done to establish whether they are safe.
The occupants of two houses on Priscilla Crescent are still forbidden from even going into their properties.
"Security guards will continue to patrol the area until further notice," the council said in a statement.
The council has been working since the slip on June 1 to prevent any more land falling away.
The cause of the slip is still being investigated.
- APNZ