Relatives, friends and staff rally around to raise cash for woman left to die after collision at intersection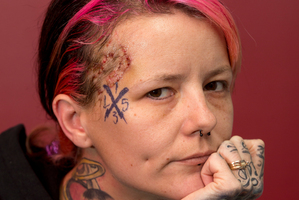 The surgeon who sewed Nikki Campbell's head back together was able to use her tattoo to perfectly align the gash.
Her neatly stitched wound is small consolation after the hit-and-run crash where a suspected drunk driver left her for dead in her mangled car.
The tattoo artist, known as Nikki Needles, had just left her Albany Village studio to get dinner for her husband and 11-year-old son on Wednesday last week about 10.30pm.
As she drove along State Highway 17, coming up to the intersection with Oteha Valley Rd, the light was green and there was no one else on the road.
As she crossed the intersection, a car slammed into her right side.
"I didn't hear any brakes or had any idea it was coming, but all of a sudden I got hit with this massive impact and started spinning around.
"When I finally came to a stop, I realised I was okay, but I could feel dripping on the side of my face. I got out and walked around the car, but I was a little disoriented from there on."
The other driver took off without even checking she was alive.
Mrs Campbell spent more than 48 hours in hospital and needed 60 stitches to a large wound on the right side of her face. Surgeons were able to use a tattoo by the cut to match the skin together perfectly, but she will still be left with a scar.
The head injury has left her emotional and with headaches, and doctors have told her she needs a couple of weeks off before easing herself back into work.
Her husband, Greg, has also been forced to take time out of the business to look after her, which has left the family with financial difficulties as they don't have insurance.
But Mrs Campbell's staff have rallied behind her family and are holding a fundraiser dubbed "Family First" today to try to help the family.
Friend Chevelle Tito, one of the organisers, said four tattoo artists would donate their time.
Mrs Campbell's son, Jayden, will shave off the hair he has been growing for two years, and there will also be silent auctions.
"She is the strongest and most determined person I know and ... she would go to the moon and back for us if the shoe was on the other foot," Ms Tito said.
Mrs Campbell called the fundraising efforts "heartening" and said she was very grateful to her Lifestyle Tattoo family rallying behind her.
She's recently held a fundraiser with musician Tiki Taane for animal abuse opponents Paw Justice, so she said it was nice others were there for her when she needed them.
Police know who owns the other car and suspect the driver was drunk when the vehicle slammed into Mrs Campbell. They're still trying to track the owner down.

Charity ink jobs
What: Family First fundraiser for Nikki Needles
When: Today, 10am to 7pm
Where: Lifestyle Tattoo, 231 SH17, Albany Village
Online: facebook.com/lifestyletattooakcity