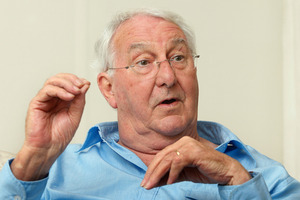 SPCA head and staunch animal welfare advocate Bob Kerridge admits that some animal testing will be required as part of a new regime which is designed to prove the safety of party pills and synthetic cannabis.
MPs on a Health Select Committee unanimously agreed that the Psychoactive Substances Bill should be passed into law with amendments which included tentative limits on animal testing.
A new expert panel designed to approve legal highs for sale would also have to ensure that any clinical or preclinical drug trials did not rely on animal testing "if suitable alternatives existed".
Mr Kerridge, a member on the expert panel, said: "The eventual conclusion is that it might be necessary to have some animal testing, but we would hope to limit that as much as possible."
He said it was difficult to admit that some animals would be used in drug trials, and he felt some reluctance on the panel to allow experiments on rats or dogs for the purpose of approving recreational drugs.
But he added: "One has to go with the full consensus of experts who know what they are doing and are there to do a job."
Select Committee chair Paul Hutchison said that MPs were advised by the expert panel that it was not possible to completely ban animal tests because these tests provided the most robust results.
Dr Hutchison said the legal highs were most likely to be used by young people and it was important to do the most rigorous testing possible to ensure the products would be safe.
Green Party MP Mojo Mathers said it was positive to have animal welfare recognised in the primary legislation - submissions on this issue were initially ruled out of scope. But she said that the bill still allowed animal testing, and "suitable alternatives" could be widely interpreted.
Animal testing was routinely used in New Zealand for medicines, but many submitters have questioned whether animal testing could be justified for proving the safety of recreational highs.
It is understood that the amendment was made because the animal rights issue was considered an obstacle to passing the law as soon as possible. The Psychoactive Substances Bill has been fast-tracked twice and must be in place before temporary bans on products lapse in August.
Many of the bill's amendments introduced restrictions that were similar to changes that Labour and Greens sought in the Alcohol Reform Bill.
Sponsorship and advertising was heavily restricted - retailers would banned from marketing the brands outside of their stores and manufacturers would not be able to advertise online, apart from on their own websites.
Dairies, groceries and petrol stations would be banned from selling legal highs, and communities would be able to decide the location and number of shops which sold synthetic drugs.