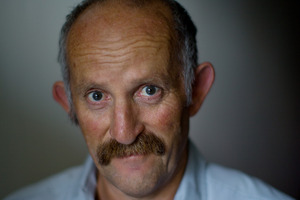 Gareth Morgan is pitching his latest conservation project at schools in the hope children pressure their parents into cat control.
The move has alarmed a Parent-Teacher group which says it could create friction with some parents.
The project, Enhancing the Halo, is a web-based campaign to be launched tomorrow that aims to increase predator control around Wellington by creating what Morgan describes as "the most intensive trap-line in the country".
The website teaches "Halo households" about conservation techniques, such as planting native bush and trees and trapping pests on their property.
Dr Morgan counted cats as pests alongside rats, possums and mice.
He urged those at a public meeting in Wellington today to humanely trap any cat that wandered across their properties and take them to the authorities.
He was also going to be taking the project to schools and "work it up through the children".
"The children are really powerful - you are too scared to go against what your children say - we're going to set your children onto your cats.
"That's the recipe for success."
Dr Morgan was not worried about backlash from cat-loving families.
"Cats are a really small part of Halo ... the fact that somebody prefers a cat to a rat doesn't interest me really, we'll just roll with it."
He said he had discussed the proposal with the Ministry of Education and their response was "good" and the programme would be introduced in the next six months.
But a ministry spokesman said it did not endorse any particular product, service, or, in this case, campaign material to schools.
"Schools are self-governing legal entities and make their own decisions about what their students should learn or how that learning is supported."
New Zealand Parent Teacher Association secretary Jennifer de Jonge said the programme could cause problems in schools if some parents did not agree with the project.
"Children love pets."
New Zealand School Trustees Association president Lorraine Kerr said boards should be consulted about the project and it was up to each school on whether to implement it.
Dr Morgan has invited the ire of cat lovers and made headlines worldwide with the creation of his website Cats To Go.
He advocated trapping wandering cats and said any that were not microchipped should be euthanised.
- APNZ