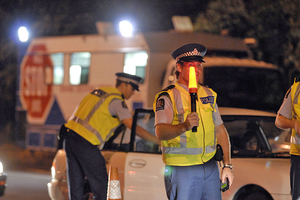 A 71-year-old Gisborne man has been jailed for six months following his fourteenth conviction for drink-driving.
James Cowan appeared for sentence in Gisborne District Court, having pleaded guilty to driving with excess breath-alcohol (761 mcg) for the third or subsequent time and to driving while disqualified for the third or subsequent time (his 19th).
Defence counsel Mark Sceats sought an electronically-monitored sentence but Judge Jonathan Down refused, saying community detention sentences given to Cowan for his two most recent similar offences - last year and in 2010, had failed to deter him.
Mr Sceats said Cowan was a hard-working rural man who, like others, enjoyed a beer after a hard day's graft. His problem was getting home afterwards.
Cowan neither breached nor offended while subject to community sentences.
Judge Jonathan Down accepted the submissions, saying he would reduce the starting point he had intended to impose. But he noted when not under sentence, Cowan continued to reoffend.
"I have to consider my public duty for general deterrence.
"You can't constantly breach the law in this way and not expect to receive the ultimate sentence of imprisonment.
"Prison won't be easy for you in your retirement years but I don't assess you as demonstrating any real remorse - only for the fact that you got caught.
"The public deserves a rest," the judge told him.
From a starting point of six months, the judge lifted the sentence to eight months due to Cowan's previous offences. He gave a full 25 per cent discount for Cowan's guilty pleas.
The sentence included indefinite disqualification from driving and standard release conditions.
Mr Sceats was concerned that Cowan's previously-impounded vehicle had been sold before the case was finalised.