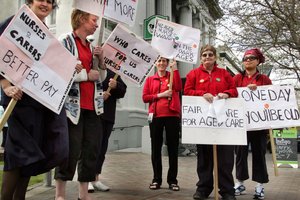 Unions and Labour reacted with cries of outrage yesterday about a new bill that has the capacity to severely dent the effectiveness of strike action and which threatens to increase conflict on picket lines.
Since 2000, the law has prevented employers hiring temporary staff during strike action and the new bill would allow it.
The Employment Relations (Continuity of Labour) Amendment Bill in the name of National's Botany MP, Jami-Lee Ross, was draw from the private members' bill ballot and was introduced to Parliament yesterday.
It is almost certain to make it to select committee with the support of National for a first reading vote and the likely support initially of Act leader John Banks and United Future leader Peter Dunne.
Mr Ross said the current law created an imbalance that could impact on the productivity of a workplace. A lot of productivity had been lost during the Ports of Auckland strike in 2012 but that strike was not the catalyst for the bill.
"I hope there'll be a balanced discussion engaging employers and employees.
The Engineering, Printing and Manufacturing Union secretary Bill Newson said it was "extreme legislation that would empower bad employers and entrench low wages."
The Public Service Association secretary Richard Wagstaff called it "a distasteful piece of legislation."
And Council of Trade Unions secretary Peter Conway said it was "another attack on collective bargaining" and it would reduce wages.
He said that there were very few strikes in New Zealand and the latest data showing only 12 work stoppages in 2011 was the lowest number since the data began in 1986.
"But if this bill became law then it would reduce the impact of a strike, it will create huge conflict between strikers and replacement labour when there is a dispute and it will make it harder to protect pay and conditions."
Labour Minister Simon Bridges, who is heading for the International Labour Organisation in Geneva tomorrow with CTU president Helen Kelly, was non-committal yesterday as to whether the Government would support it all the way.
He said the National caucus would decide whether to continue its support after the select committee process.
Mr Bridges already has his own Employment Relations Amendment Bill before the House with a series of other contentious changes to industrial law including allowing employers to opt out of multi-employer bargaining; allowing partial pay cuts for partial strike action; ditching a provision which requires employers to pay new workers no less than the collective pay rate; and ditching a requirement for collective agreement bargaining to be concluded.