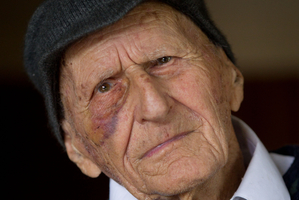 Frank Glavish last year became the oldest person to give evidence in a district court when he stood in the dock and faced a woman who had ripped him off after posing as a long-lost relative.
Up to 50 per cent of all elder abuse relates to the theft of money or possessions. But unlike many elderly victims, Mr Glavish - who was 100 at the time - was not afraid to fight back.
Marylynn McVeigh stole $300 from him last September. She had approached him months earlier claiming she was a relative and started staying at his Glorit, Kaipara, home.
In September, she picked him up to take him to an event and on the way she managed to use his eftpos card to withdraw the cash.
Police said she got Mr Glavish's PIN number by watching him enter it on other trips she took him on.
She later abandoned Mr Glavish at the event, leaving him upset and shaken.
Mr Glavish died this year, aged 101. His daughter Tonka Price, who was his primary caregiver and visited him daily, said McVeigh targeted him because of his age.
"Dad was targeted by Marilyn because he lived alone and was kind, trusting, loved company and would let her and her partner stay. He would not let me kick them out as he didn't like unpleasantness."
Ms Price was angry that McVeigh had set out to abuse her father, and she was proud when he stood up for himself in court.
"Dad simply wanted his money back because that is the correct thing to do. He wasn't bothered about giving evidence because it was the simple truth.
"People who target the elderly deliberately in this manner are basically greedy scumbags who have lost all form of human decency."
Ms Price said it was hard to see her father taken advantage of, but she was pleased she pushed the matter.
"It's very difficult to take over for a parent as it is saying to them they are incapable. Even though they are [capable], it is still hurtful for them to begin to lose their independence and ability to make their own decisions."
She urged others in her position to be aware of who was visiting their elderly relatives, keep an eye on their finances and act quickly if anything seemed amiss.
In November, Mr Glavish spoke to the Herald about what had happened, and had some advice for anyone considering ripping off an older person.
"Honesty is the best policy. Stealing other people's money - that's just not on."
Elder abuse definition
Elder abuse is a single or repeated act, or lack of appropriate action, occurring within any relationship where there is an expectation of trust, which causes harm or distress to an older person.
It can be of various forms: physical, psychological/emotional, sexual, financial/material or intentional/unintentional neglect.
The offenders 2013
• Palmerston North care worker Alaina Leonie Bishop, 28, admitted stealing $8900 of an 81-year-old's savings and a gold, diamond and sapphire ring worth about $1000.
• Carrie Fretton, 52, was already serving a sentence of community work for benefit fraud when she stole rings valued at $4800 from three elderly clients. Fretton admitted stealing the rings while working as a healthcare assistant at Carter House aged-care complex in Te Puke. The first two rings, valued at $2000, belonged to a 92-year-old female resident who was blind and had dementia.
• Rotorua woman Teri Mihinui, 26, stole more than $2000 while working as a carer for a 70-year-old woman who was housebound because of ill health. Mihinui visited the victim daily, helping her with day-to-day tasks, and was entrusted with the woman's eftpos card and PIN number once a week to do her grocery shopping.
• 2012 Auckland couple Ranita Devi and Ahlokh Chand, both 32, stole $37,500 from a 99-year-old woman who had failing eyesight and no friends or family. Devi, a care worker, stole the woman's bankcard and, with Chand, used it to fund a three-month spending spree.
• 2008 During an unannounced visit to an Auckland rest home, Ministry of Health staff found a woman in her 70s whose mouth had been taped shut with wide medical tape by a care worker because she made too much noise.
• 2006 Sharon Faye Lawrence was working for the Salvation Army as a caregiver for two elderly people near Tauranga when she stole $1260 worth of cheques and cash to pay for her wedding.
• Mt Maunganui housewife Theresa Mary Zajonskowski was jailed for two years and three months and ordered to pay $20,000 reparation for stealing from an elderly woman. She befriended her neighbour, a pensioner with failing eyesight and the first stages of dementia, and slowly stole her life savings by writing 100 fraudulent cheques.
Do you suspect an older person is being abused or neglected?
• Are you an older person and feel you are being abused or neglected?
• Do you feel you have been abusive or are in danger of abusing an older person in your life?
• Contact Age Concern for help or advice. If you feel the older person is in immediate danger, call the police.
• For more information about elder abuse and how to identify warning signs, visit www.ageconcern.co.nz