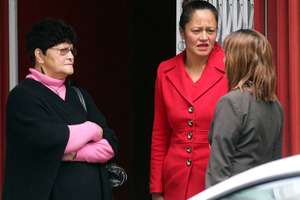 A primary teacher will have to sell her family home to repay the nephew she cheated out of a $400,000 inheritance.
Ena Croft, 48, was today sentenced to 12 months supervision and ordered to repay reparations of $120,000 that she spent on herself. She had earlier pleaded guilty to charges relating to forging a will.
Her brother - Jim Croft - drowned in 2008 and left more than $426,000 in life insurance to his son Chanse Tautari.
But instead of the money going to Mr Tautari, Croft faked a will and, along with affadavits, filed them with the High Court at Whangarei.
The documents resulted in her being appointed as executor of her brother's estate.
Croft's mother - 72-year-old Ina Croft - was sentenced to six months' home detention and 400 hours' community work last December for her part in the crime.
It was revealed at her sentencing that she spent the money on holidays and home renovations.
Ena Croft gave $40,000 to each of her three sisters. She also paid off credit cards, her mother's mortgage and bought her a new lounge suite.
Judge Mary Beth Sharp said the situation caused "open warfare" in the family and resulted in a nasty split.
Attempts to hold a restorative justice conference failed after some members refused to take part.
Crown prosecutor Kim Francis said Ena Croft continually denied taking the money until the "whistle was blown" by relatives.
According to the Crown, Ena Croft's sisters confronted her and she confessed the will was fake.
Mr Francis said Chanse Tautari believed his dead father had been betrayed by her.
Mr Tautari's victim statement said: "It saddens me so much to see my family torn apart by the greed - especially from people I trusted."
Ena Croft's lawyer Heeni Phillips said her client was truly sorry for her offending.
She said she had already put $10,000 into a solicitor's trust account to be paid to her nephew straight away. Other funds will come from the sale of her house.
She said Ena Croft could also lose her livelihood after being de-registered by the Teachers Council.
Judge Sharp took into account a letter Ena Croft had sent the council which claimed she had spent about $30,000 settling her brother's debts and a significant sum on his funeral and headstone.
In sentencing she said she had also considered reports from mental health specialists and taken into account the fact the convictions would likely end her career as a teacher.
- APNZ