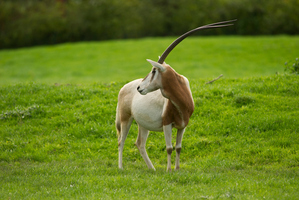 Twenty-year-old sperm has been used to artificially inseminate a female scimitar-horned oryx at a Canterbury zoo.
Orana Wildlife Park today used the Canadian sperm to artificially inseminate an oryx called Bon.
The sperm was last used in the early 1990s when Orana was the first institution in the world to breed scimitar-horned oryx by artificial insemination (AI).
"The reason we are performing AI on our female, Bon, is that scimitar-horned oryx are a high value conservation species - they are extinct in the wild," Orana's zoological manager, Rob Hall said.
"Captive management programmes have enabled them to be re-populated in some protected areas in Africa as well as zoos throughout the world. We are very hopeful that the stored sperm will help produce more of this magnificent species."
The move comes after Bert, another male at the park, became too old to breed.
Experts have given a 30 per cent chance of Bon conceiving from the procedure.
Orana has bred more than 70 animals since the first four scimitar-horned oryx were transferred from Marwell Zoo, England to the park in 1978.
- APNZ