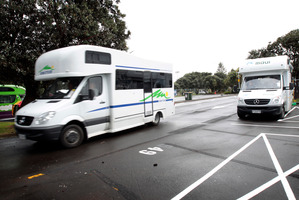 A British couple have been left with nothing but the clothes on their backs after their campervan was broken into just a week after landing in New Zealand.
Nicola Forsyth, 28, and Tom Hiscock, 33, were visiting Te Papa in Wellington on Tuesday when thieves broke into their van, parked nearby, and stole all their belongings.
Everything was taken, including their backpacks with all their clothes and toiletries, and - of most concern to them - their camera memory cards where all their photographs are stored.
All they have left is the clothes they were wearing, their passports and a camera.
"We just feel completely sick," said Nicola. "It's hard to believe we lost everything just a few months into our travelling trip."
The pair saved for two years for their "trip of a lifetime", taking in South America, NZ, Australia and South-East Asia over nine months.
"We spent the last couple of months in South America and we expected something like this to happen there, not in broad daylight in New Zealand," she said.
"It's been one of our favourite countries, and I guess we've just been really unlucky."
She said if there was "one thing" they could get back it would be the memory cards and USB stick so they don't lose all their photographs from the trip.
They reported the burglary to police, who dusted for fingerprints and are studying CCTV footage, aided by Tom, a police officer who works at Scotland Yard.
However, Nicola said they have been told the area of the Barrett Street carpark they had parked in was a "blind spot" for CCTV cameras.
But she praised police as well as Te Papa security for the seriousness with which they treated the theft, and appealed to the public for any information that could lead to the recovery of their belongings.
"We searched the grass and bushes around the area, and in the carpark and bins, anywhere we think they would dump [our items]," the PR girl said. "There's nothing of interest other than the iPod and USB stick, nothing of real [monetary] value, so we were hoping they would dump it locally that we could find it, but we didn't have any luck."
She said they were "desperate" to retrieve their things and hoped speaking to the media would help.
"We're just hoping that a member of the public finds something and hands it in," she said.
In an added blow to their luck, Nicola said they thought their travel insurance would not cover them, nor would the rental company they hired the van from.
Anyone with information was asked to contact Wellington police.
- APNZ